Architectural photography, especially in a city as iconic as New York, is more than just snapping pictures of buildings. It's about capturing the essence of architecture, the design intent, and the emotional impact of a space. Jakob Dahlin, a renowned figure in the realm of architectural photography in NYC, often emphasizes the significance of this art form in influencing real estate sales.
The essence of architectural photography
Architectural photography focuses on capturing buildings and similar structures in a manner that's both aesthetically pleasing and accurate in representation. This sub-genre of photography requires a keen eye for detail, understanding of spatial dynamics, and the ability to translate architectural marvels into compelling visuals.
Historical glimpse: From foundations to facades
The roots of architectural photography can be traced back to the very inception of photography itself. The first permanent photograph, "View from the Window at Le Gras" by Nicéphore Niépce, showcased buildings, marking the beginning of this genre. Over the years, as architectural styles evolved, so did the techniques used to photograph them. By the mid-20th century, photographers began experimenting with diagonal lines, bold shadows, and other innovative techniques, transforming architectural photography into an art form.
Techniques: Beyond the basics
One fundamental aspect of architectural photography is perspective control. This ensures vertical lines remain parallel, avoiding the distortion commonly seen in amateur photographs. Traditionally, view cameras were the go-to equipment, allowing for lens tilting and shifting relative to the film plane. In modern times, digital single lens reflex (DSLR) cameras equipped with tilt-shift lenses have become the standard.
For interior shots, a combination of natural and artificial light, termed "flambient lighting", is often employed. This blend ensures neither light source overpowers the other, resulting in balanced, vibrant images.
Real estate photography: A specialized niche
While architectural photography is an art form, real estate photography leans more towards marketing. The core purpose here is to showcase properties in their best light to potential buyers. The approach, equipment, and even the expectations vary based on whether the shoot is for architectural or real estate purposes.
Exterior vs. interior: A photographer's perspective
Exterior architectural shots typically utilize available daylight or ambient light from nearby sources during nighttime. The surrounding landscape, be it trees, fountains, or statues, plays a crucial role in these compositions, guiding the viewer's eye towards the main subject – the building.
Interior shots, on the other hand, can be a tad more challenging. They often require supplemental lighting to enhance the ambiance. The stationary nature of architectural subjects allows photographers to use post-processing to achieve the desired lighting balance.
In the details
A closer look at architectural details reveals the materials, textures, and finishes that define a building. These close-up shots provide insights into the craftsmanship, design intent, and functionality of a structure.
The impact on NYC real estate
In the bustling real estate market of New York City, architectural photography plays a pivotal role. High-quality images not only attract potential buyers but also command higher property valuations. Jakob Dahlin's work in NYC stands testament to this, with his photographs often being credited for swaying buyer decisions.
In conclusion, architectural photography, especially in the context of NYC real estate, is an indispensable tool. It bridges the gap between architectural marvels and potential buyers, translating brick and mortar structures into visual stories.
Challenges in architectural photography
Real estate photography, particularly in the architectural domain, is not without its challenges. The process of capturing construction, both during its phases and upon completion, requires a unique approach.
The ideal frame: A photographer's quest
When one searches for architectural photography, the results often showcase perfectly finished buildings against captivating skies. Interiors gleam with impeccable lighting, making spaces appear inviting. These images, while stunning, follow a formula designed to evoke a desire to inhabit or work within those spaces.
However, capturing architectural structures during their construction phase is a different ball game. This phase presents its own set of challenges. The primary audience for these images is architects. They understand the inevitable obstructions of construction and seek to visualize the progress and the eventual finished structure within its environment. The frame should encapsulate architectural features, convey a sense of size and space, and provide a location perspective. Achieving this often means navigating construction sites, ascending staircases, or even dangling from cranes to find that perfect shot.
Technicalities and techniques
Architectural photography is a blend of art and science. While the final image should adhere to fundamental principles like the rule of thirds, balance, and composition, the technical aspects cannot be ignored. One common challenge is the convergence of vertical lines, especially when photographing tall structures. This distortion occurs when the camera is tilted upwards, making the top of the building appear narrower than its base in the photograph.
A solution many architectural photographers, including Jakob Dahlin, employ is the tilt-shift lens. This lens allows the camera's sensor to remain parallel to the building's façade while shifting to capture the building in its entirety, eliminating perspective distortion.
Understanding the architect's vision
One of the most crucial aspects of architectural photography is understanding the architect's vision. What features are they proud of? What elements do they want highlighted? The only way to truly capture a building in a way that resonates with the architect's intent is through communication. By engaging in discussions, asking the right questions, and listening intently, a photographer can align their shots with the architect's vision.
John Weston, a prominent figure in architectural photography, emphasizes the importance of this dialogue. He believes that while a photographer brings their expertise to the table, the images should represent what the architect envisions. This collaborative approach ensures that the final photographs not only showcase the building but also tell its story.
Conclusion
Architectural photography, especially in the realm of construction, is a dance between artistry and technical precision. By understanding the challenges, employing the right techniques, and fostering open communication with architects, photographers can create images that truly capture the essence of a structure.
The future of architectural photography in NYC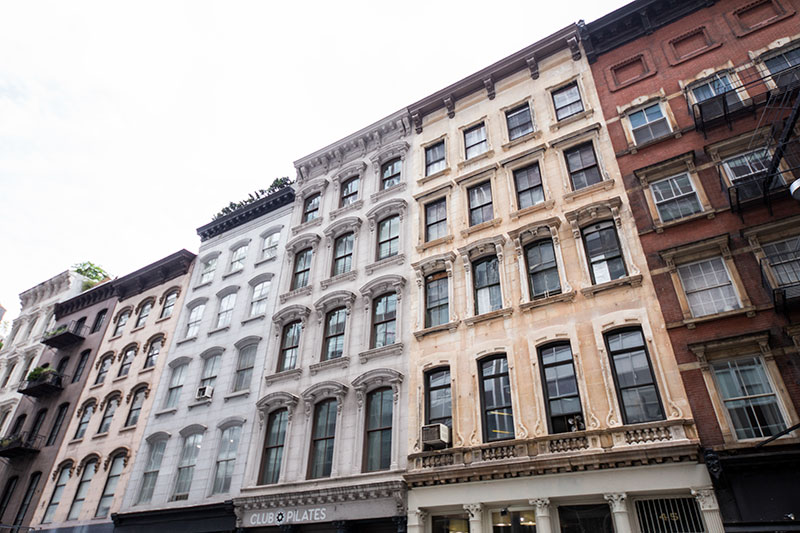 New York City, with its iconic skyline and rich architectural history, has always been a canvas for photographers. As we look ahead, the future of architectural photography in this metropolis promises to be a blend of tradition and innovation.
Embracing new technologies
Emerging technologies, especially augmented and virtual reality, are set to redefine how we experience architectural spaces. The prospect of exploring a photographed space interactively, delving into its corners and nuances virtually, is tantalizing. While this isn't traditional photography, it's an exciting frontier that blurs the lines between static imagery and immersive experience.
Sustainable and green architecture
As the world becomes more environmentally conscious, sustainable and green architecture is gaining prominence. Capturing the interplay between structures and their natural surroundings will become crucial. This will challenge photographers to represent not just the aesthetics, but the ethos and functionality of these eco-conscious designs. The green rooftops, vertical gardens, and energy-efficient designs will be the new subjects of architectural photography, reflecting the city's commitment to a sustainable future.
Navigating challenges
Despite the advancements, challenges persist. The city's ever-tightening regulations, concerns over privacy, and the need to distinguish genuine artistry in an age of filters and presets will test photographers' skills and ethics. Moreover, in a city as photographed as New York, finding a unique voice amidst countless images will remain a challenge.
However, the essence of architectural photography in NYC will always be about capturing the soul of its structures. Whether it's the historic charm of brownstones, the grandeur of skyscrapers, or the innovative designs of sustainable buildings, the city offers endless narratives waiting to be captured.
In conclusion, architectural photography in New York City is on the cusp of a new era. While it will embrace new technologies and trends, its heart will remain in capturing the city's ever-evolving architectural story, marrying the old with the new, tradition with avant-garde.
Architectural photography and urban planning: A symbiotic relationship
New York City's architectural landscape is a testament to its rich history and progressive future. The city's skyline, dotted with iconic structures like the Empire State Building and the Chrysler Building, is a visual narrative of its architectural evolution. But beyond the aesthetics, architectural photography plays a pivotal role in urban planning and development in NYC.
Documenting the city's evolution
Photographs serve as historical records, capturing the city's transformation over time. From the Art Deco masterpieces of the early 20th century to the modernist marvels of today, photographs provide a tangible link to the past. Urban planners and historians often rely on these visual records to understand the architectural trends and influences that shaped the city.
Reflecting the city's ethos
New York City is a melting pot of cultures, and its architecture is a reflection of its diverse population. Photographs capture the essence of the city, from the historic brownstones of Brooklyn to the shimmering glass towers of Midtown. These images not only showcase the city's architectural marvels but also tell the stories of the communities that inhabit them.
Influencing design decisions
Architectural photographs are more than just visual records; they are tools of persuasion. High-quality images can sway public opinion, influence stakeholders, and even secure funding for new projects. A well-composed photograph can highlight the beauty and functionality of a design, making it easier for planners and developers to gain support for their projects.
A tool for sustainable development
As the world grapples with the challenges of climate change, sustainable development has become a priority. Architectural photographs can highlight eco-friendly designs, green rooftops, and energy-efficient structures, promoting a sustainable approach to urban development. By showcasing these innovative designs, photographers can inspire architects and planners to adopt sustainable practices in their projects.
Conclusion
Architectural photography and urban planning are intertwined in a dance of creativity and functionality. While photographs capture the city's architectural beauty, they also play a crucial role in shaping its future. In a city as dynamic as New York, architectural photography will continue to influence urban planning, ensuring that the city remains a beacon of architectural innovation.
Promoting NYC as a global architectural hub through photography
New York City, often dubbed as the architectural capital of the world, has been the subject of countless photographs. From its historic brownstones to the modern skyscrapers, every corner of the city tells a story. Architectural photography, in this context, serves as a powerful tool to promote NYC as a global architectural hub.
The power of a single frame
Xi Chen's winning photograph, "Vertical Life," from Architizer's 2022 One Photo Challenge, is a testament to the impact of architectural photography. Set against the backdrop of NYC, the image captures the juxtaposition of the city's towering skyline and the serene Central Park. This photograph not only showcases the architectural marvels of the city but also tells a story of the urban lifestyle, where vertical living is juxtaposed with the tranquility of green spaces.
A city of contrasts
New York's architectural landscape is a blend of the old and the new. The city's historic landmarks stand tall alongside modern architectural wonders, creating a visual tapestry that is both diverse and harmonious. Photographs like "Vertical Life" highlight this contrast, drawing attention to the city's architectural evolution and its commitment to preserving its heritage.
Beyond aesthetics: Telling stories
While architectural photographs capture the beauty of structures, they also tell stories. The image of a couple walking their dog in Central Park, set against the backdrop of the city's skyscrapers, speaks volumes about the city's ethos. It tells a story of a city that is bustling yet serene, modern yet rooted in tradition.
Impact on tourism and international recognition
Architectural photographs play a crucial role in promoting NYC as a tourist destination. Images of the city's iconic landmarks, captured in all their glory, attract tourists from around the world. Moreover, these photographs also earn international recognition, with many being featured in global publications and exhibitions.
Conclusion
Architectural photography is not just about capturing structures; it's about capturing the soul of a city. In the case of NYC, every photograph tells a story of its rich architectural heritage, its bustling urban life, and its commitment to sustainability and innovation. Through these images, NYC continues to cement its position as a global architectural hub, drawing admiration and awe from around the world.
Architectural photography in education: A lens into the future
The field of architecture is vast and ever-evolving, with its roots deeply embedded in history. As one of the oldest and most prestigious professions, architecture has always been about more than just creating shelter. It's about designing spaces that resonate with human emotions, reflect cultural values, and stand the test of time. And as the profession has evolved, so too has the way we document and showcase architectural marvels.
The role of architectural photography in education
Architectural education is a rigorous journey, spanning five years of intensive study. From understanding the nuances of design theory to mastering the intricacies of construction, students are exposed to a plethora of subjects that shape their perspective towards the built environment. But beyond the traditional curriculum lies a niche yet significant field: architectural photography.
Photography, in the context of architecture, is not just about capturing beautiful images. It's about narrating the story of a building, understanding its context, and highlighting its design intent. An architectural photographer, therefore, needs more than just technical skills. They need an architect's eye, an understanding of space, light, and form.
Why an architectural background matters
The article from RTF highlights the relevance of an architectural degree for architectural photographers. It emphasizes that architectural photography is not merely about taking pictures; it's about capturing a visual narrative. This narrative is not just a visual representation but a timeless story that resonates with the essence of the building.
An architectural background equips photographers with the sensitivity to understand the built environment in a way that might be challenging for a layman. Subjects like architectural drawing, design theory, and history of architecture lay the foundation for recognizing and appreciating architectural elements in photographs.
Bridging the gap: From design to documentation
The process of architectural photography is meticulous. It begins with understanding the project, its design intent, and the architect's vision. This is followed by analyzing the site, considering factors like light, viewing angles, and the surrounding context. The final step is capturing the essence of the building, ensuring that the photographs do justice to the architect's vision.
The article also highlights the difference between architectural photographers with and without an architectural background. While non-architects might focus more on the human aspects of a building, those with an architectural background can delve deeper, understanding the nuances of design and capturing the essence of the structure.
Conclusion
Architectural photography is a blend of art and science. It requires a keen eye, technical expertise, and, most importantly, an understanding of architecture. As the field of architecture continues to evolve, so too will the role of photography in documenting and showcasing architectural marvels. For budding architects and photographers alike, this presents an exciting opportunity to merge two passions and create visual narratives that stand the test of time.
A reflection of time and society
The art of architectural photography is more than just capturing structures; it's about narrating the story of a building, understanding its context, and highlighting its design intent. As Daniil Taraskin eloquently puts it, architectural photography captures an era and, in addition to expressing the architectural features of the time, reflects the social structure of society, serving as a documentary reflection of history.
The evolution of architectural photography
From its origins in the experiments of Joseph Nicéphore Niépce in the late 18th century to the iconic works of Ezra Stoller in the 20th century, architectural photography has evolved in tandem with the architectural trends of the time. Early pioneers like J. M. Daguerre and William Talbot focused on capturing buildings as motionless inanimate objects, leading to two distinct approaches: façade and perspective photography.
The 20th century saw the rise of modern architecture, and with it, a new approach to architectural photography. Architects began to work closely with photographers to promote their projects, leading to iconic collaborations like Le Corbusier and Lucien Hervé, and Frank Lloyd Wright with photographers Henry Fuhrmann and Pedro E. Guerrero.
Architectural photography today
Today, architectural photography continues to evolve, with photographers like Iwan Baan capturing the impact of modern buildings on their surroundings. Baan's photographs of the CCTV building in Beijing, designed by Rem Koolhaas, highlight the contrast between the scale and technology of the project and the surrounding low-rise buildings.
With the advent of digital technology, architectural visualization has emerged as a new form of artistic expression. This digital art form, which combines elements of painting and photography, allows artists to create visual narratives of unbuilt architecture, opening up new possibilities for discourse and fantasy.
Conclusion
Architectural photography, whether traditional or digital, remains a powerful tool for capturing the essence of architecture and its impact on society. As we move forward, this art form will continue to evolve, reflecting the changing architectural trends and societal values of the time.
Ethical considerations in architectural photography
Architectural photography, while a powerful medium for capturing the essence of structures and spaces, comes with its own set of ethical considerations. The way a building is portrayed can influence public perception, and therefore, photographers bear a responsibility in shaping this narrative.
The power of perspective
A photograph's framing can significantly alter the viewer's perception. By zooming into a specific point or cropping an image, photographers can emphasize certain elements while omitting others. This selective portrayal can sometimes lead to misrepresentation. For instance, a photograph might showcase the grandeur of a building while conveniently omitting the dilapidated structures surrounding it. Such portrayals, while visually appealing, might not present the complete truth.
Manipulation vs. authenticity
With advancements in digital technology, post-processing has become an integral part of photography. While minor edits like color correction or brightness adjustments are generally accepted, extensive manipulation can distort reality. Removing unsightly elements, adding artificial lighting, or enhancing certain features can present a structure in an unrealistic light. The line between artistic expression and misrepresentation is thin, and photographers must tread carefully.
Respecting privacy
Urban architectural photography often captures not just buildings but also the people interacting with these spaces. While candid shots can add life to a photograph, they might inadvertently invade the privacy of individuals. Photographers need to be mindful of this, ensuring that they have the necessary permissions or that the subjects are unidentifiable.
The responsibility of storytelling
Every photograph tells a story. In the realm of architectural photography, this story is not just about the building but also about the community it serves, its historical significance, and its impact on the urban fabric. Photographers, therefore, have a responsibility to ensure that their images reflect these narratives accurately.
Conclusion
Architectural photography, while a powerful tool for documentation and expression, comes with its own set of ethical responsibilities. As visual storytellers, photographers must ensure that their images are not just aesthetically pleasing but also truthful and respectful.
A tool for persuasion and communication
Architectural photography is not just about capturing structures; it's an art form that communicates the essence of architectural designs to a global audience. David Cardelús, in his paper presented at the Inter 2016 = Photography and Architecture international conference, delves deep into the nuances of this art form and its significance in the architectural world.
The essence of architectural photography
Cardelús emphasizes that photographs are open to interpretation. They don't just mean what they depict; they represent what viewers want to see in them. This interpretative nature of photographs makes them a powerful medium for communication, adding value beyond mere documentation.
The digital age and architectural photography
In today's digital age, the internet is the primary platform where architectural photographs are viewed. Millions of images are continuously available on our devices, making it imperative for architectural photographs to stand out. These images not only need to be visually appealing but also need to communicate the essence of the architectural project they represent.
The art of choosing a perspective
The choice of perspective in a photograph can drastically alter its interpretation. Cardelús stresses the importance of selecting the right point of view, as it determines the appearance of the building in the image. A well-chosen perspective can enhance the visual appeal of a photograph, making it more engaging for the viewer.
The ethical dimension
Architectural photography is not just about aesthetics; it's also about ethics. Photographers have the responsibility to represent architectural projects truthfully, without distorting reality. This involves making informed choices about framing, lighting, and post-processing to ensure that the photographs are both beautiful and authentic.
Conclusion
Architectural photography is a dynamic field that merges art and architecture. It's a medium that communicates, persuades, and engages viewers, making them appreciate the beauty and intricacy of architectural designs. As Cardelús aptly puts it, architectural photographs should never leave viewers indifferent; they should captivate, inform, and inspire.
Fostering community engagement through architectural photography
In the bustling urban landscapes of cities like New York, architectural photography plays a pivotal role in shaping the narrative of development and design. Through the lens of Jakob Dahlin, the intricate dance between structures, spaces, and society is captured, fostering a deeper connection between the community and its built environment.
Jakob Dahlin: A visionary behind the lens
Jakob Dahlin, renowned for his unique perspective on architectural photography, has been instrumental in bridging the gap between architects and the general public. His images, characterized by their depth and attention to detail, tell stories of buildings not just as standalone structures but as integral parts of the community they serve.
The power of a photograph in urban planning
Dahlin's work highlights the importance of architectural photography in urban planning. His images often serve as catalysts for discussions on sustainable development, heritage conservation, and community-centric design. By presenting buildings in their broader context, Dahlin's photographs emphasize the symbiotic relationship between architecture and its surroundings.
Engaging the community
One of the most significant impacts of Dahlin's work is its ability to engage the community. His photographs often evoke emotions, making viewers reflect on their personal connections to the spaces they inhabit. This emotional engagement is crucial in fostering a sense of ownership and pride in one's community, leading to more active participation in local development initiatives.
The ethical responsibility of architectural photographers
While Jakob Dahlin's work is celebrated for its authenticity, it also underscores the ethical responsibility borne by architectural photographers. These professionals have the power to shape public perception, making it imperative to represent spaces truthfully and without bias. Dahlin's commitment to this ethical standard sets a benchmark for others in the field.
Conclusion
Architectural photography, as exemplified by the work of Jakob Dahlin, is more than just a visual documentation of buildings. It's a powerful medium that influences public discourse, fosters community engagement, and drives positive change in urban development. As cities continue to evolve, the role of architectural photographers in shaping their future becomes even more significant.
Preserving history through architectural photography
In the ever-evolving urban landscapes, the preservation of historical landmarks stands as a testament to a city's rich heritage. Architectural photography, especially the work of visionaries like Jakob Dahlin, plays a pivotal role in this preservation, ensuring that the stories of these landmarks are not lost to time.
Capturing the essence of historical landmarks
Jakob Dahlin's portfolio boasts a myriad of images that capture the grandeur and intricacies of historical landmarks. His photographs are not mere visual records; they encapsulate the essence of these structures, their historical significance, and the narratives they hold. Through Dahlin's lens, viewers are transported back in time, reliving the moments that shaped these landmarks.
A tool for advocacy and preservation
Historical landmarks often face threats from urban development, natural disasters, and time itself. Dahlin's photographs serve as powerful tools for advocacy, rallying support for the preservation of these structures. By showcasing the architectural brilliance and cultural significance of these landmarks, his images inspire communities to champion conservation efforts.
Architectural tourism: A journey through time
Dahlin's work has also contributed significantly to architectural tourism. His photographs, featured in exhibitions and publications worldwide, attract enthusiasts eager to experience the beauty of these landmarks firsthand. Cities benefit economically from this influx of tourists, further emphasizing the importance of preserving historical structures.
The balance between modernity and heritage
While cities must evolve to cater to the needs of their growing populations, it's crucial to strike a balance between modern development and heritage preservation. Dahlin's photographs serve as a reminder of this delicate balance. They highlight the harmonious coexistence of the old and the new, showcasing how modern structures can complement historical landmarks without overshadowing them.
Conclusion
Architectural photography, as showcased by Jakob Dahlin, is a powerful medium that transcends aesthetics. It plays a crucial role in preserving history, fostering community engagement, and promoting architectural tourism. As we move forward, the significance of this art form in shaping the narrative of cities and their landmarks will only grow.
Inspiring the next generation: Architectural photography's role in shaping design
The world of architecture is in constant flux, with emerging architects at the forefront of defining the future of built environments. In this journey, architectural photography, especially the evocative work of Jakob Dahlin, serves as both inspiration and guidance.
A source of inspiration
For budding architects, photographs are more than just visual records. They are a source of inspiration, offering insights into design philosophies, construction techniques, and the interplay between structures and their surroundings. Dahlin's images, with their meticulous attention to detail and composition, inspire young architects to think beyond the conventional, pushing the boundaries of design.
A learning tool
Architectural photography also serves as an invaluable learning tool. By studying photographs, emerging architects can understand the nuances of light, shadow, and space. Dahlin's work, in particular, offers lessons in how to capture the essence of a structure, emphasizing its defining features while showcasing its relationship with the broader environment.
Fostering global architectural discourse
In today's digital age, architectural photographs are shared globally at the click of a button. This widespread dissemination fosters global architectural discourse, allowing architects from diverse backgrounds to exchange ideas, critique designs, and collaborate on projects. Dahlin's photographs, featured in international exhibitions and publications, play a pivotal role in this global dialogue, bridging cultural and geographical divides.
Conclusion
Architectural photography, epitomized by the work of Jakob Dahlin, is not just an art form; it's a catalyst for change. It inspires, educates, and fosters dialogue, shaping the future of architectural design. As we stand at the crossroads of tradition and innovation, the role of architectural photography in guiding and influencing emerging architects becomes even more profound. Through the lens of photographers like Dahlin, we glimpse the future of architecture, a future that promises to be as diverse, dynamic, and awe-inspiring as the structures they capture.