New York City, a bustling metropolis known for its iconic skyline, has witnessed a transformative shift towards sustainable architecture in NYC. Since the early 2000s, the city's architects and urban planners have increasingly embraced green buildings, integrating solar panels, rooftop parks, and energy-efficient designs into their projects. This evolution not only reflects a global trend but also NYC's commitment to combating climate change and promoting urban sustainability.
The importance of sustainable building in urban environments
Urban environments, with their dense populations and vast infrastructure, play a pivotal role in global sustainability efforts. Sustainable architecture in NYC addresses multiple challenges: reducing energy consumption, mitigating the urban heat island effect, and enhancing the quality of life for its residents.
Green buildings, with their energy-efficient architecture, not only reduce carbon footprints but also offer economic benefits in the long run. Moreover, features like rooftop parks provide much-needed green spaces in the concrete jungle, promoting biodiversity and offering residents a respite from the urban hustle.
Historical perspective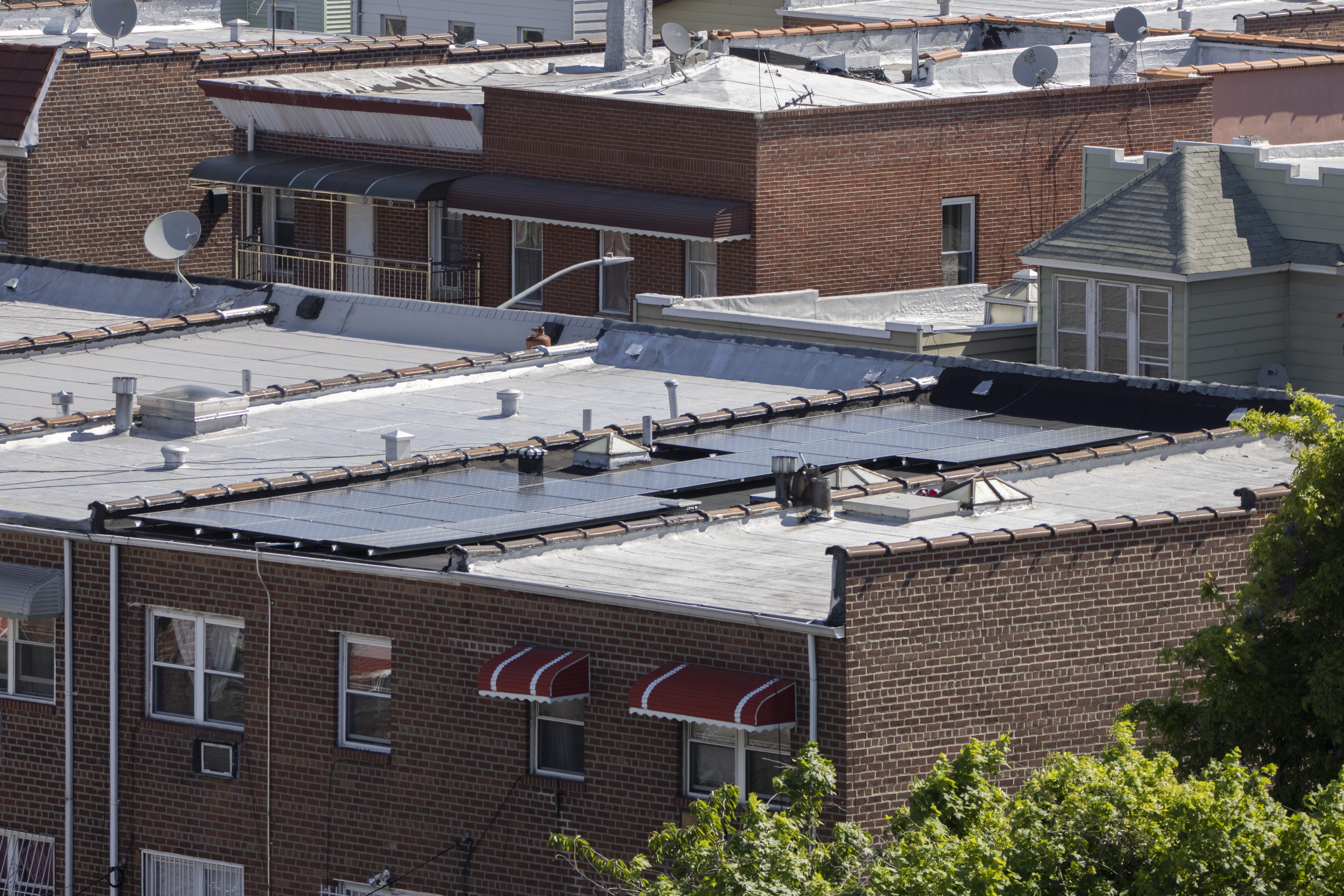 Early initiatives in sustainable architecture
The roots of sustainable architecture in NYC can be traced back to the 1970s, when the global energy crisis prompted a reevaluation of building practices. Architects began experimenting with passive solar designs and natural ventilation techniques.
However, it wasn't until the late 1990s and early 2000s that the city saw a surge in green building initiatives, driven by rising environmental awareness and advancements in sustainable construction technologies.
Pioneers of green buildings in NYC
Several architects and firms paved the way for NYC's green building movement. Notably, the architectural firm Skidmore, Owings & Merrill (SOM) championed energy-efficient designs, while individuals like Robert Fox and Bruce Fowle emphasized the importance of integrating nature into urban spaces. Their innovative approaches laid the foundation for the city's current landscape, dotted with green buildings and structures adorned with solar panels and vertical gardens.
Key features of green buildings
A distinguishing feature of green buildings is their rigorous commitment to energy optimization. These structures utilize state-of-the-art techniques and materials to curtail energy usage. Advanced insulation materials, such as spray foam or rigid board, ensure minimal thermal transfer, thus maintaining internal temperatures with reduced energy expenditure. Furthermore, high-performance windows, equipped with features like double or triple glazing, low-E coatings, and gas fills, diminish heat loss and block harmful UV rays, optimizing indoor climate control.
The inclusion of energy-efficient lighting systems, such as LED or CFL technologies, further reduce electricity consumption. Additionally, the incorporation of photovoltaic solar panels, often strategically installed on building rooftops, not only offsets electricity consumption but also harnesses renewable energy from the sun. By converting sunlight into usable electricity, these buildings significantly bolster their energy conservation efforts, pushing the envelope of sustainable architectural design.
Innovative sustainable architectural designs
The passive house movement in NYC
Originating in Germany, the Passive House standard has gained traction in NYC. Buildings adhering to this standard consume up to 90% less heating and cooling energy than conventional structures. With its rigorous energy efficiency criteria, the Passive House movement exemplifies the city's commitment to sustainability.
Net-zero energy buildings
Net-zero energy buildings produce as much energy as they consume, primarily through solar panels and wind turbines. NYC has seen a rise in such structures, showcasing the city's progressive stance on sustainable architecture.
Adaptive reuse: Giving old buildings new life
NYC's rich architectural history offers ample opportunities for adaptive reuse. Transforming old factories, warehouses, and historic buildings into modern, energy-efficient spaces preserves the city's heritage while promoting sustainability.
Biophilic design: Connecting with nature in the concrete jungle
Biophilic design, rooted in the principle of forging innate connections between inhabitants and the natural environment, has emerged as a prominent paradigm within sustainable architecture in NYC. By strategically incorporating elements like native plant species, water features, and organic materials, architects and designers are able to simulate natural habitats within urban infrastructures.
Furthermore, the meticulous selection and application of textures reminiscent of natural landscapes, combined with patterns that mirror those found in nature, serve to enhance sensory experiences for residents. This convergence of natural elements within the urban architectural fabric not only fosters enhanced well-being but also actively mitigates the often overwhelming stress associated with bustling city life.
As such, biophilic design is not merely an aesthetic choice but a deliberate and technical approach to crafting healthier, more holistic urban living spaces in New York City's sustainable architectural milieu.
Case studies: Iconic green buildings in NYC
VIA 57 West: Combining aesthetics with efficiency
Located in New York's lively neighborhood, the 57 WEST Superblock, with VIA, FRANK, and Helena, is a model of green innovation. Designed by the renowned architectural firm Bjarke Ingels Group (BIG), VIA 57 West marries aesthetics with sustainability. Its unique tetrahedron shape captures natural light efficiently, complemented by green terraces that give residents a natural escape in the city.
The building emphasizes environmental care, recycling 60,000 gallons of water daily and sourcing sustainable wood. The 22,000-square-foot VIA GARDEN showcases the commitment to nature, filled with native plants. This award-winning structure stands as a testament to harmonizing modern design with sustainable living.
The Edge: Brooklyn's pioneering eco-friendly complex
The Edge in Williamsburg recently received LEED Gold certification, making it NYC's largest residential building with this accolade. This luxury tower has significantly influenced Williamsburg's transformation. It offers top-tier amenities like pools, fitness centers, and balconies with views of the East River and Manhattan. Despite its luxury, The Edge prioritizes sustainability.
Features include energy-efficient windows, insulated walls, low-flow water fixtures, and Energy Star appliances. An impressive 84% of construction waste was recycled, and the building's design exceeds the New York State Energy Conservation Code by 17%. Developed by Douglaston, Levine Builders, SBJ Group, and W Architecture & Landscape Architecture LLC, the building demonstrates luxury living can coexist with environmental responsibility.
Challenges and solutions
Overcoming regulatory and zoning hurdles
While NYC has been proactive in promoting green building, regulatory and zoning challenges persist. However, through collaboration between architects, city officials, and stakeholders, many of these hurdles have been overcome, paving the way for more sustainable projects.
The cost vs. Benefit analysis of green buildings
Initial costs of green building can be higher than traditional construction. Yet, the long-term benefits – reduced energy bills, increased property values, and positive environmental impact – often outweigh the initial investment.
Addressing the urban heat island effect
NYC, like many urban areas, grapples with the urban heat island effect. Green roofs, rooftop parks, and tree planting initiatives have emerged as effective solutions, helping to cool the city and improve air quality.
The future of sustainable architecture in NYC
Upcoming green building projects
The role of technology in shaping sustainable designs
Advancements in technology, from smart sensors to AI-driven design tools, are revolutionizing sustainable architecture. These innovations promise to make green buildings even more efficient and responsive to inhabitants' needs.
NYC's green building roadmap: Goals for the next decade
Looking ahead, NYC has outlined ambitious goals for green building. Aiming for a carbon-neutral city by 2050, the roadmap emphasizes retrofitting existing structures, promoting net-zero energy buildings, and fostering community engagement in sustainability initiatives.
Conclusion
The lasting impact of green buildings on NYC's skyline
Green buildings have indelibly shaped NYC's skyline, reflecting the city's evolution towards sustainability. From iconic towers to innovative residential complexes, these structures stand as symbols of a brighter, greener future.
The way forward: A greener, more sustainable NYC
As NYC continues its journey towards sustainability, the emphasis on green building will only grow. With the combined efforts of architects, policymakers, and residents, the city is poised to lead the way in sustainable urban development.