Brutalism, a term derived from the French "béton brut" meaning "raw concrete," is an architectural style that emerged in the mid-20th century. It is characterized by its bold, fortress-like appearance with an emphasis on raw, unfinished materials, primarily concrete. Brutalism in New York City stands as a testament to the city's ever-evolving architectural landscape, reflecting its dynamic history and the societal changes of the times.
The rise of brutalism: A global perspective
The global rise of Brutalism can be traced back to post-war Europe, where the need for rapid reconstruction led architects to adopt a more functional and cost-effective approach. This style, with its raw and unpretentious aesthetics, was seen as a reflection of the times – a world recovering from the ravages of war, seeking simplicity and functionality.
New York City: A concrete jungle in more ways than one
In the heart of the United States, Brutalism in New York City found its footing amidst the city's iconic skyscrapers and historic brownstones. The city, known for its architectural diversity, embraced Brutalism as a symbol of modernity and progress. The massive concrete structures, with their imposing facades, became synonymous with New York's image as a bustling metropolis, always on the move.
Origins of brutalism
Brutalist architecture, a style that emerged during the 1950s in the United Kingdom, is characterized by minimalist constructions that emphasize raw building materials and structural elements over decorative design. The style often features exposed, unpainted concrete or brick, angular geometric shapes, and a monochrome color palette. Brutalism descended from the modernist movement and was a reaction against the nostalgic architecture of the 1940s. The term "new brutalism" was derived from the Swedish phrase "nybrutalism" and was first used by British architects Alison and Peter Smithson. The style gained further popularity through an essay by architectural critic Reyner Banham.
One of the earliest mentions of Brutalism in connection with Sweden is the term "nybrutalism" (new brutalism), which was coined by Swedish architect Hans Asplund. He used it to describe Villa Göth, a modern brick home in Uppsala, designed in January 1950 by Bengt Edman and Lennart Holm. This house showcased the 'as found' design approach, which later became central to brutalism. The term was soon adopted by a group of English architects, emphasizing the influence of Swedish design on the movement.
Post-war Europe: The birthplace of brutalism
After the ravages of World War II, Europe was in dire need of reconstruction. Cities lay in ruins, and there was an urgent demand for new housing and public buildings. Brutalism, with its emphasis on raw materials and straightforward construction, offered a practical solution. The style was seen as an honest expression of the materials used, devoid of unnecessary ornamentation. This was not just an architectural choice but a reflection of the times – a world recovering from the trauma of war, seeking simplicity and functionality.
The philosophical foundations: Form follows function
The essence of Brutalism can be encapsulated in the phrase "form follows function." This principle, rooted in modernist architectural thought, posits that the shape of a building should be primarily based upon its intended function. Brutalism took this idea to heart, often resulting in structures that were stark, imposing, and unapologetically honest about their purpose.
Key architects and their vision
Several architects were instrumental in shaping and promoting the Brutalist movement. Le Corbusier, a Swiss-French architect, was among the pioneers. His design for the Unité d'Habitation in Marseille, France, is often cited as a seminal Brutalist work. In the UK, architects like Alison and Peter Smithson championed the style, with buildings such as the Robin Hood Gardens in London. Interestingly, Sweden's Hans Asplund, who coined the term "nybrutalism," also contributed to the movement's ethos, emphasizing the raw, unadorned nature of materials.
Characteristics of brutalist architecture
Brutalism is more than just concrete structures. It's a philosophy, an aesthetic, and a statement. The characteristics of Brutalist architecture are distinct and easily recognizable.
The raw appeal: Unfinished concrete and bold forms
At the heart of Brutalism is the use of raw, unfinished materials, primarily concrete. This material, often left exposed, gives Brutalist buildings their characteristic rough texture. The bold geometric forms, devoid of decorative elements, further accentuate the rawness of the material.
Functionality over aesthetics
While many architectural styles prioritize aesthetics, Brutalism places functionality at the forefront. Buildings are designed with a clear purpose in mind, and every element serves a functional role. This often results in structures that are stark and minimalist, prioritizing the needs of the inhabitants over decorative embellishments.
The interplay of light and shadow
Despite its often imposing appearance, Brutalist architecture is deeply concerned with the play of light and shadow. The deep recesses, protruding elements, and angular shapes create dynamic patterns of light and shade, adding depth and dimension to the structures.
Brutalism's journey to New York City
As Brutalism gained traction in Europe, it was only a matter of time before it made its way across the Atlantic. New York City, with its rich tapestry of architectural styles and ever-evolving skyline, became a fertile ground for this bold and unapologetic style.
The city's evolving architectural landscape
New York City has always been at the forefront of architectural innovation. From the Art Deco spires of the 1920s to the sleek glass towers of the 21st century, the city's skyline is a testament to its adaptability and willingness to embrace new styles. Brutalism in New York City emerged in this dynamic environment, offering a stark contrast to the city's more ornate and decorative structures.
The need for new public spaces: Housing, institutions, and more
The post-war boom and the subsequent urbanization of New York City created a pressing need for new public spaces. Brutalism, with its emphasis on functionality and cost-effectiveness, provided an apt solution. The city saw the rise of Brutalist-inspired public housing projects, educational institutions, and civic buildings. These structures, often massive and imposing, were designed to cater to the city's growing population and its diverse needs.
Adapting European brutalism to the American urban context
While Brutalism's roots are firmly planted in European soil, its transplantation to New York City required adaptation. The dense urban fabric of the city, combined with its unique cultural and socio-economic context, meant that Brutalism in New York took on a slightly different flavor. Architects had to navigate the challenges of limited space, strict zoning laws, and the city's existing architectural heritage. The result was a version of Brutalism that, while retaining its core principles, was distinctly New York.
Iconic brutalist structures in New York City
New York City's embrace of Brutalism has left the city with a rich legacy of Brutalist structures, each telling its own story of design, function, and urban evolution.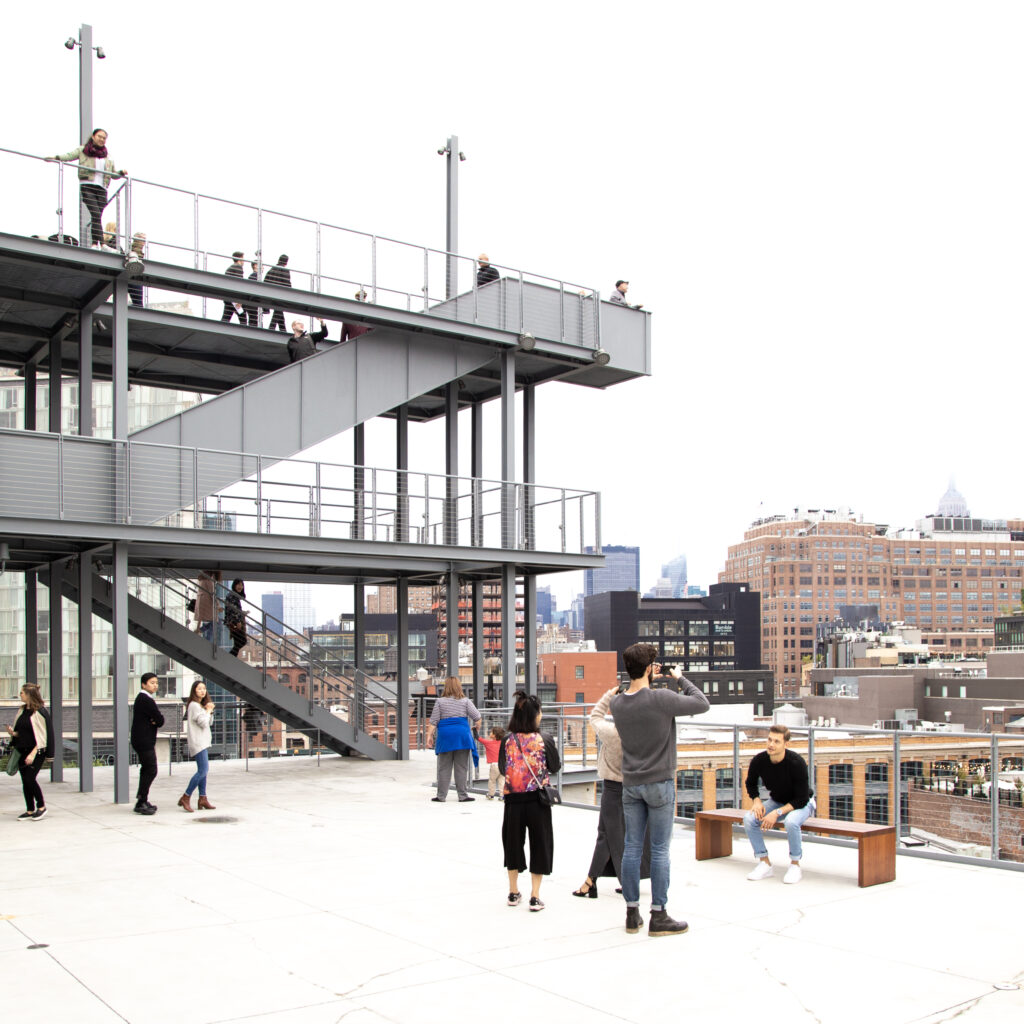 The Whitney Museum of American Art: A modernist marvel
The Whitney Museum, located in Lower Manhattan's Meatpacking District, is a masterwork of Brutalist architecture. Conceived by Marcel Breuer in 1966, its design draws inspiration from inverted ziggurats.
Utilizing raw concrete and stone, the museum stands as a testament to Brutalism's unrefined aesthetic. Amidst the district's historic backdrop, the Whitney offers a bold contrast, symbolizing New York City's architectural evolution and the audacity of the Brutalist movement.
Ford Foundation Building
The Ford Foundation Building, situated in Midtown Manhattan, is a unique blend of Brutalist and modern architectural elements. Designed by Kevin Roche John Dinkeloo and Associates, its prominent use of exposed concrete is characteristic of Brutalist design.
However, what sets it apart is its vast, glass-enclosed atrium filled with lush greenery, creating an urban oasis in the heart of the city. This innovative design approach prioritizes open spaces, allowing natural light to flood the interiors. While the building's exterior exudes the starkness typical of Brutalism, its interior challenges conventions, offering a harmonious blend of nature and architecture.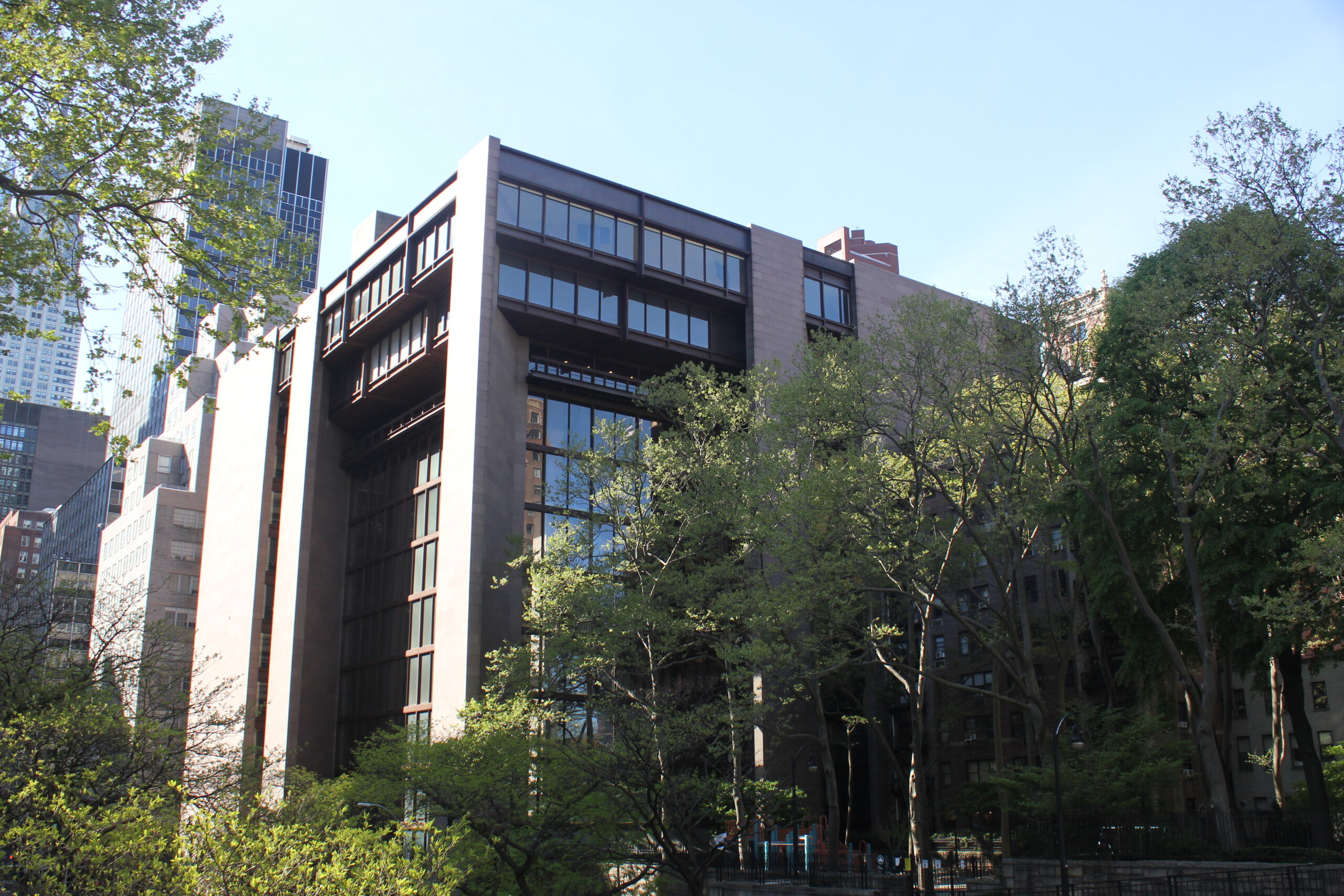 Other noteworthy brutalist buildings in New York City
The Hunter College North Building: Located on the Upper East Side, this edifice showcases Brutalism's characteristic raw concrete and fortress-like appearance.
The Westyard Distribution Center: Situated in the Hell's Kitchen area, this building emphasizes Brutalism's raw, unadorned surfaces.
One Police Plaza: Serving as the headquarters of the New York City Police Department, its design is unmistakably Brutalist with its rigid geometric patterns and raw concrete.
Brown Building of Science (NYU): Part of New York University, this building in Greenwich Village showcases the heavy, block-like aesthetics of Brutalism.
The controversies surrounding brutalism
Brutalism, despite its significant impact on the architectural world, has not been without its share of controversies. The style, often polarizing, has been both lauded for its honesty and criticized for its perceived coldness.
Criticisms: Cold, inhuman, and oppressive?
One of the primary criticisms leveled against Brutalism is its perceived cold and inhuman appearance. The extensive use of raw concrete, combined with the style's stark minimalism, has led many to describe Brutalist buildings as oppressive and unwelcoming. In urban settings, these massive concrete structures can sometimes overshadow their surroundings, leading to a sense of alienation among residents and passersby.
The preservation debate: To save or not to save?
As many Brutalist structures age, cities face the dilemma of preservation. While some view these buildings as architectural masterpieces worthy of protection, others see them as outdated relics that should make way for newer, more modern structures. This debate has been particularly heated in New York City, where real estate is at a premium, and the question of preserving versus redeveloping Brutalist structures is a contentious one.
The legacy and future of brutalism in New York City
Brutalism's impact on New York City's architectural landscape is undeniable. While the style may have its detractors, its influence persists, and its legacy is evident in the city's built environment.
The resurgence of interest in brutalist design
In recent years, there has been a renewed interest in Brutalism. Architects and designers, inspired by the style's raw honesty, are incorporating Brutalist elements into modern designs. This resurgence is not just limited to architecture; Brutalist-inspired design can be seen in interior decor, furniture, and even fashion.
Modern interpretations: Brutalism in the 21st century
Brutalism in New York City is evolving. Modern interpretations of the style are more refined, blending the rawness of traditional Brutalism with contemporary design sensibilities. These new structures, while paying homage to classic Brutalism, are more in tune with today's urban realities.
The role of brutalism in sustainable architecture
Sustainability is a pressing concern in today's architectural world. Brutalism, with its emphasis on durable materials and functional design, has a role to play in the push for more sustainable buildings. The style's inherent durability means that Brutalist structures often have long lifespans, reducing the need for frequent renovations or rebuilds.
Conclusion
Brutalism, a movement that began as a response to the challenges of post-war Europe, found a unique expression in the architectural tapestry of New York City. Its bold forms, raw materials, and emphasis on functionality made it a defining style of the mid-20th century. While often divisive in public opinion, its impact on the city's skyline and architectural discourse is undeniable.
The enduring impact of brutalism on New York City's architectural tapestry
Brutalism in New York City stands as a testament to the city's ability to adapt and evolve. Amidst the glass skyscrapers and historic brownstones, Brutalist structures tell a story of a time and place, of societal shifts and architectural revolutions. They serve as a reminder of a period when architects sought to strip away the superfluous and focus on the essential, resulting in buildings that were both functional and honest in their presentation.
As debates over the preservation and redevelopment of New York's Brutalist structures persist, the indelible legacy of Brutalism stands unshaken. This architectural style has not only left its mark on the city's skyline but has also inspired a fresh wave of architects and designers. Drawing from Brutalism's foundational principles, these visionaries are reimagining its tenets within the context of contemporary design, pushing creative boundaries further than ever before.
In the ever-evolving tapestry of New York—a city celebrated for its dynamism and diversity—Brutalism is more than a mere architectural style of the past. It represents a pivotal chapter in New York's rich architectural narrative, a testament to the city's enduring spirit of innovation and its unceasing quest for architectural excellence.