In the bustling cityscape of New York City, architectural marvels rise from the ground, each telling a story of design, innovation, and history. Capturing these structures requires not just a keen eye but also advanced tools that can bring out the essence of the architecture. Enter Adobe Photoshop AI, a game-changer in the realm of photo editing.
Adobe Photoshop AI, with its advanced generative AI capabilities, has revolutionized the way architectural photographs are edited and enhanced. The software's AI-driven features, such as Generative Fill and Generative Expand, are powered by Adobe Firefly, a cutting-edge generative AI technology. These tools allow photographers to make intricate edits, add elements, or expand images seamlessly, ensuring that the architectural wonders of New York City are presented in their best light.
Generative fill: A new dimension in photo editing
Generative Fill stands out as a remarkable feature for architectural photographers. Imagine capturing a historic building in NYC but wanting to add a dynamic sky or a bustling crowd to give it life. With Generative Fill, you can select an area of your image, type in a description of what you want—be it a sunset sky or a crowd—and watch as the software generates options in mere seconds. This function ensures that the essence of NYC's vibrant life is never missing from your architectural shots.
Generative expand: Beyond the image borders
New York City's skyscrapers and historic buildings often stretch beyond the frame, and sometimes, photographers wish to expand their images without compromising on quality. Generative Expand comes to the rescue. By dragging the Crop tool beyond the original borders and clicking 'Generate', the canvas expands, filling up with content that blends seamlessly with the existing image. Whether it's extending the skyline or adding more of the city's streets, this feature ensures that every part of the architectural story is told.
AI-Powered tools: Enhancing architectural details
Adobe Photoshop AI boasts a range of tools that make editing faster and more intuitive. The 'Select Subject' feature, for instance, allows photographers to isolate the main element of a photo, be it a historic monument or a modern skyscraper, with a single click. Additionally, features like 'Content-Aware Fill' enable users to remove and replace parts of any photo seamlessly, ensuring that every architectural detail is highlighted to perfection.
In the world of architectural photography, especially in a city as iconic as New York, Adobe Photoshop AI emerges as an indispensable tool. Its AI-driven features ensure that every photograph captures the essence, history, and beauty of the city's architectural wonders. Whether you're a professional photographer or an enthusiast, leveraging the power of Adobe Photoshop AI can transform your architectural shots, making them stand out in a league of their own.
The Precision of AI in Highlighting Architectural Nuances
In the intricate world of architectural photography, especially when capturing the diverse structures of New York City, precision is paramount. Adobe Photoshop AI's suite of tools ensures that every nuance, from the intricate details of historic facades to the sleek lines of modern skyscrapers, is highlighted with utmost accuracy.
Seamless Background Transitions
New York City offers a dynamic backdrop, but sometimes, the environment doesn't align with the photographer's vision. With the "New Background" feature of Adobe Photoshop AI, changing the setting of photos becomes a seamless task. By simply selecting the background and typing a text prompt, one can transport a subject from a bustling NYC street to a serene park, or even a completely different city. This flexibility allows photographers to create the perfect setting for their architectural subjects.
Before and after: The magic of Adobe Photoshop AI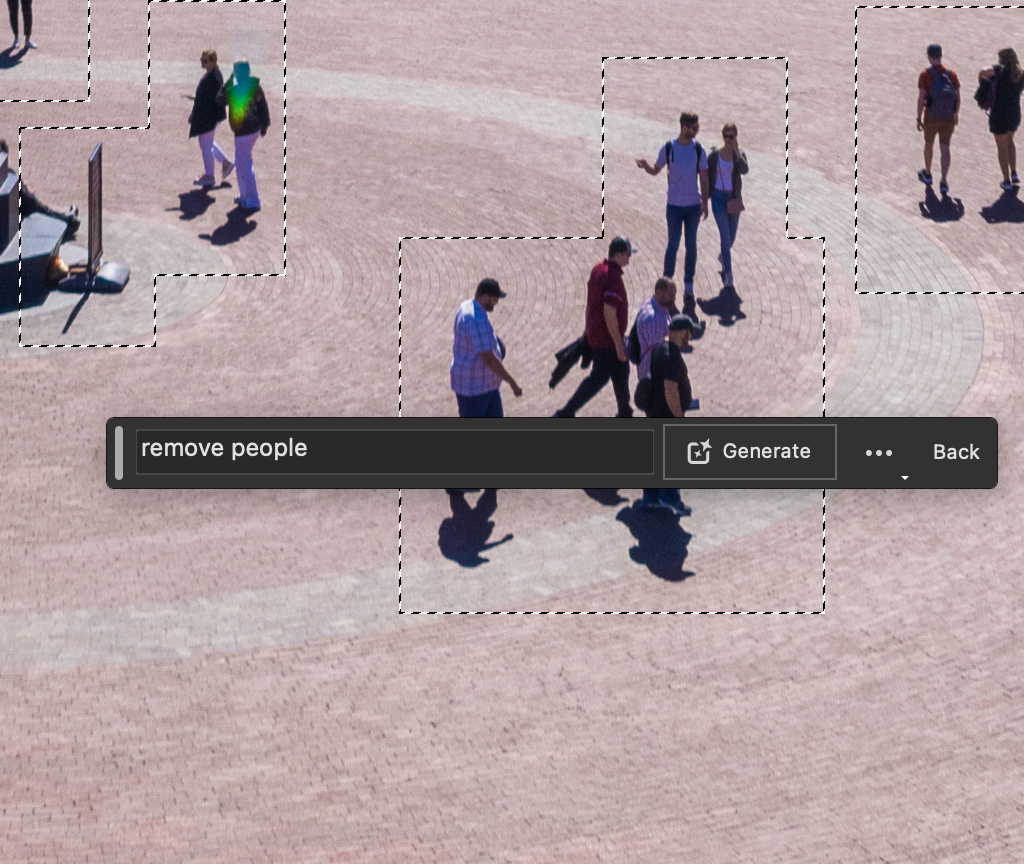 Capturing iconic landmarks like the Statue of Liberty often presents a challenge due to the ever-present crowds of tourists. While the original shot might capture the essence of the moment, it may not always align with the photographer's vision of a serene and unobstructed view of Lady Liberty.
Enter Adobe Photoshop AI, empowered by the Firefly technology. With its advanced features, photographers can effortlessly transform their original shots. By using the 'Select Subject' feature, the Statue of Liberty can be isolated, and with the 'Content-Aware Fill' tool, areas occupied by tourists can be seamlessly replaced with matching background elements.
Presenting the before and after photos side by side, the transformation is evident. What was once a bustling scene with countless visitors becomes a tranquil image, focusing solely on the majesty of the Statue of Liberty. This showcases the unparalleled capabilities of Adobe Photoshop AI, allowing photographers to realize their vision with precision and ease.
Before and after: Elevating real estate photography with Adobe Photoshop AI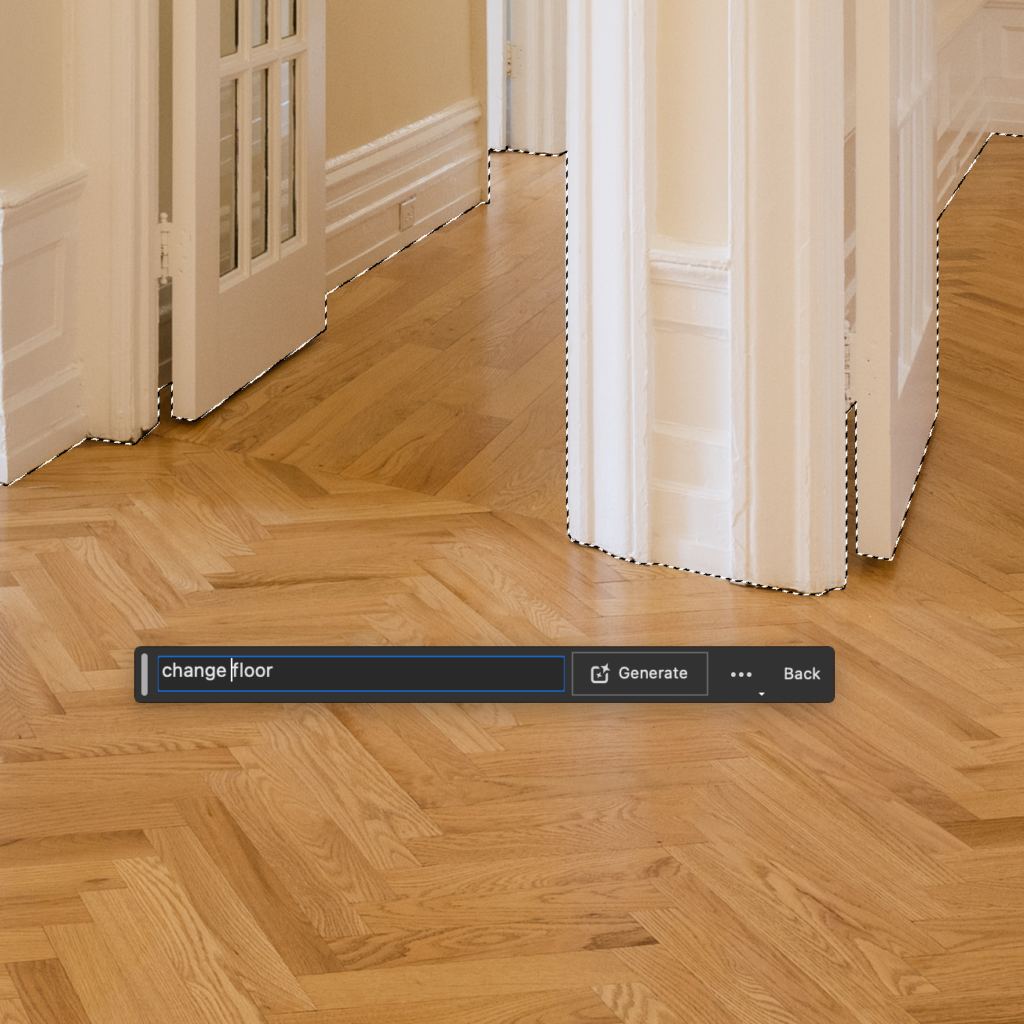 Real estate photography is all about showcasing properties in their best light, ensuring potential buyers or renters can envision themselves in the space. A common challenge faced by photographers is dealing with outdated or worn-out flooring that can detract from the overall appeal of a room.
Consider a classic New York City apartment with stunning architectural features but an old, faded carpet that hasn't seen an update in decades. While the rest of the space exudes charm, the floor becomes a glaring drawback in the photographs.
With Adobe Photoshop AI, this is no longer a hurdle. Utilizing the software's advanced texturing tools, photographers can select the old carpet using the 'Select Subject' feature. Then, with the 'Texture Replacement' function, they can overlay a more modern and appealing flooring option, such as polished hardwood or contemporary tiles.
Presenting the before and after photos side by side, the transformation is striking. The original room, held back by its worn out parquette, now shines with a modern elegance thanks to the new flooring. This not only enhances the visual appeal but can significantly increase perceived property value. Through the power of Adobe Photoshop AI, real estate photographers can ensure every property is presented in its best possible light, making spaces more inviting and attractive to potential buyers or tenants.
More than just editing: AI-Powered creativity
Beyond the standard editing tools, Adobe Photoshop AI offers a plethora of features that ignite creativity. The 'Remove Tool' allows photographers to brush over unwanted areas, replacing them with content that matches the surrounding environment. The 'Curvature Pen Tool' facilitates the drawing of straight lines and smooth curves, essential for highlighting the architectural contours of buildings. Additionally, the 'Match Font' feature can identify fonts in images, useful for photographers working on editorial pieces where typography plays a significant role.
In conclusion, Adobe Photoshop AI has emerged as an indispensable tool for architectural photographers, especially those focusing on the diverse and dynamic structures of New York City. Its AI-driven features not only streamline the editing process but also open doors to unparalleled creativity, ensuring that every photograph is a masterpiece in its own right.
The integration of Adobe Photoshop AI in architectural design
New York City, with its iconic skyline and architectural wonders, presents a unique challenge for photographers and designers alike. Capturing the essence of these structures, from historic landmarks to modern skyscrapers, requires a blend of artistic vision and technological prowess. Adobe Photoshop AI, with its advanced features, has become an invaluable tool in this endeavor, enabling professionals to enhance their work and bring their visions to life.
The role of generative AI in architectural visualization
Generative AI, a cornerstone of Adobe Photoshop AI, offers unprecedented capabilities in architectural visualization. For instance, when visualizing a proposed skyscraper's impact on the NYC skyline, designers can use the Generative Fill function to add or modify elements in the scene. This could range from adding neighboring buildings to simulating different lighting conditions, all based on simple text prompts.
Enhancing architectural details with precision
The intricate details of architectural designs, from the ornate facades of historic buildings to the sleek glass exteriors of modern towers, can be enhanced and refined using Adobe Photoshop AI. Features like the 'Content-Aware Fill' allow designers to seamlessly replace parts of an image, ensuring that every detail aligns with the overall design vision. This is particularly valuable when creating visual presentations for stakeholders or potential investors in NYC's competitive real estate market.
Versatility in design presentations
Adobe Photoshop AI's suite of tools offers versatility, a crucial aspect for architectural designers. The 'Remove Tool', for instance, lets designers effortlessly eliminate unwanted elements from their visualizations, ensuring that the focus remains on the design itself. Meanwhile, the 'Curvature Pen Tool' provides an intuitive way to highlight architectural contours, essential when presenting intricate design elements.
In the realm of architectural design, especially in a city as dynamic and diverse as New York, Adobe Photoshop AI emerges as more than just a photo-editing tool. It's a platform that bridges the gap between artistic vision and technological innovation, enabling designers to create compelling visualizations that resonate with their audience. As the architectural landscape of NYC continues to evolve, tools like Adobe Photoshop AI will undoubtedly play a pivotal role in shaping its future.
The future of architectural photography with Adobe Photoshop AI
As we delve deeper into the digital age, the symbiotic relationship between technology and art becomes more intertwined. Adobe Photoshop AI, with its groundbreaking features, stands at the forefront of this evolution, especially in the realm of architectural photography.
Embracing the digital transformation
The architectural wonders of New York City, from the historic brownstones of Brooklyn to the towering skyscrapers of Manhattan, have always been a subject of fascination. With the advent of Adobe Photoshop AI, photographers and designers now have the tools to present these structures in ways previously unimaginable. The software's AI-driven capabilities, such as Generative Fill and Generative Expand, allow for a level of detail and creativity that sets new standards in the industry.
A tool for the next generation
Educational institutions and design studios in NYC are increasingly integrating Adobe Photoshop AI into their curricula and workflows. Recognizing the software's potential, they are training the next generation of architects and photographers to harness its power, ensuring that the city's architectural legacy is captured and presented with unparalleled precision.
Conclusion
Adobe Photoshop AI has undeniably reshaped the landscape of architectural photography, especially in a city as iconic as New York. Its advanced features, combined with the timeless beauty of NYC's structures, result in visual masterpieces that captivate and inspire. As we look to the future, it's evident that Adobe Photoshop AI will continue to play a pivotal role, not just as a tool, but as a catalyst for innovation and creativity in the world of architectural photography.