Amidst the towering skyscrapers, historic brownstones, and the ever-evolving skyline of New York City, capturing the story of its architecture is a challenging task. This Q&A idea have been in the works for some time now, and I've finally found time to write down all my answers. The interview below is based on questions that I have received throughout my career. To kick things off, many assume architectural photography is all about capturing buildings in their full glory. I think it is deeper than that and I think this Q&A will help you agree with me.
How do you perceive the essence of a structure, and how do you approach capturing not just its facade, but its soul?
You're absolutely right; the common misconception about architectural photography is that it's just about capturing the aesthetics of buildings. But for me, it's an art that goes well beyond that. When I look at a structure, I don't just see bricks and mortar, or steel and glass; I see a living entity, one with a history, a story, and an essence that's unique to it. New York City is a great display of a medley of tales told through its architecture.
Perceiving the essence of a building or structure is akin to connecting with a person. Just as every individual has a unique story and soul, every building has its own narrative, shaped by its design, its history, and its interaction with the surrounding environment.
I spend considerable time with each structure I photograph, often revisiting it at different times of the day, under varied weather conditions, attempting to grasp its character and mood.
As for capturing not just the facade but the soul, it's all about perspectiveand depth. The facade might give the building its identity, but its soul often lies in the details — the wear and tear marking the passage of time, the play of shadows during a particular hour, or even the seemingly insignificant architectural elements that often go unnoticed.
To truly capture the soul, one has to go beyond the obvious, seeking out those hidden corners, those unique angles, and sometimes even the imperfections that give the building its character. It's a blend of technical expertise, artistic vision, and an emotional connection to the subject. In essence, it's about portraying buildings not as static objects, but as dynamic entities with stories waiting to be told.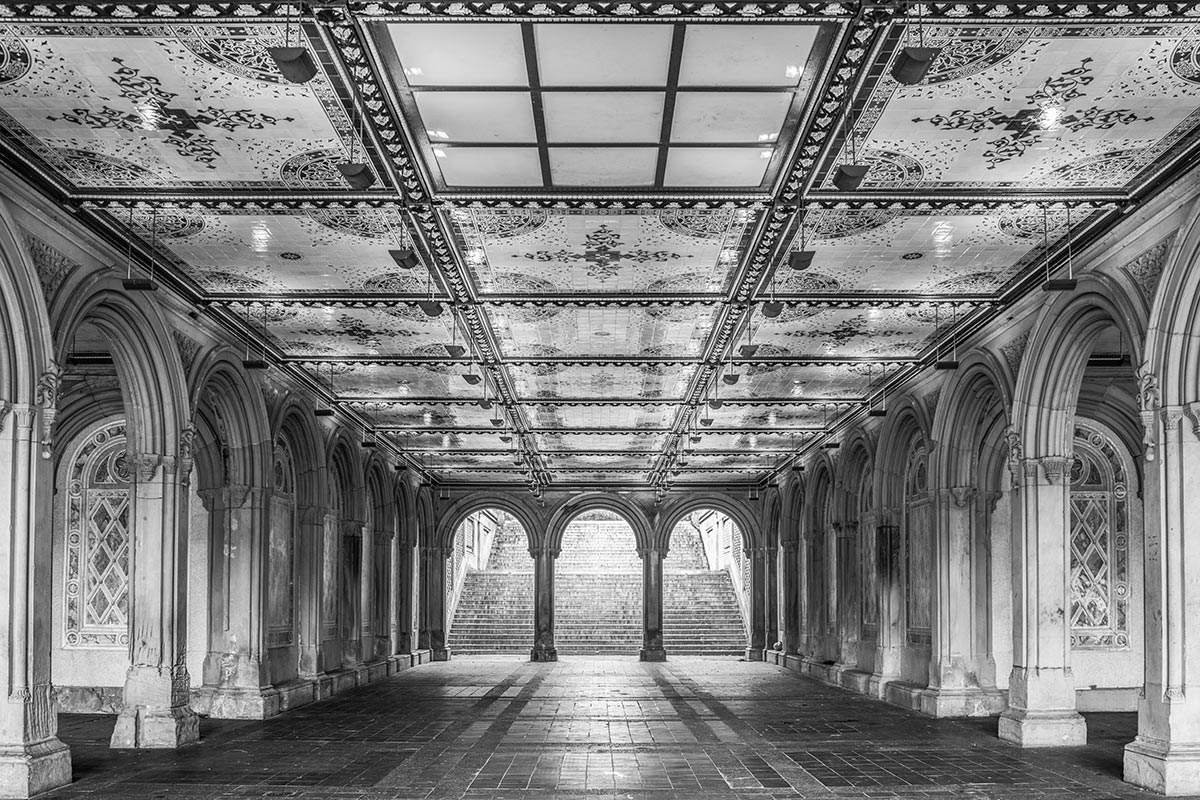 New York City is a mosaic of architectural styles from different eras. How do you navigate the challenges and opportunities this diverse landscape presents, especially in a city that's always evolving?
New York City, with its rich tapestry of architectural styles, is indeed an intricate puzzle that never stops shifting. Navigating this dynamic landscape requires both an understanding of the past and a keen eye on the present, often looking towards the future.
One of the primary challenges in such a diverse setting is ensuring that each photograph tells a coherent story. In a city where a Gothic Revival church might stand next to a sleek, modern high-rise, it's essential to find a balance in the frame. Do you focus on the contrast, celebrating the juxtaposition of old and new? Or do you isolate them, allowing each to tell its own tale?
These are the questions I often grapple with as an architectural photographer when I work on different projects. An answer to that particular question, in practice, would actually depend on who I'm working for. If I'm taking marketing photos for a newly developed building for example, I know that it can be sensitive to include religious structures as it can repel certain other religious or non-religious groups. It is important to be objective when it comes to what to include or exclude. However, after many years of doing this type of work, it comes pretty naturally to me and I don't have to ponder over "this, that or both" while working.
Another challenge, especially in a city as photographed as New York, is finding a unique voice. With countless images taken every day, from tourists' snapshots to fellow professionals' portfolios, how does one create a photograph that stands out? My approach here is to look for the 'unseen' — those angles, moments, or details that might go unnoticed in the hustle and bustle but are quintessential to the city's essence. 
However, the very challenges NYC presents are also its opportunities. Its ever-evolving nature means that the cityscape is in constant flux. A building that's here today might be obscured by another tomorrow. This transience pushes me to continually revisit sites, exploring them under different lights, seasons, and contexts.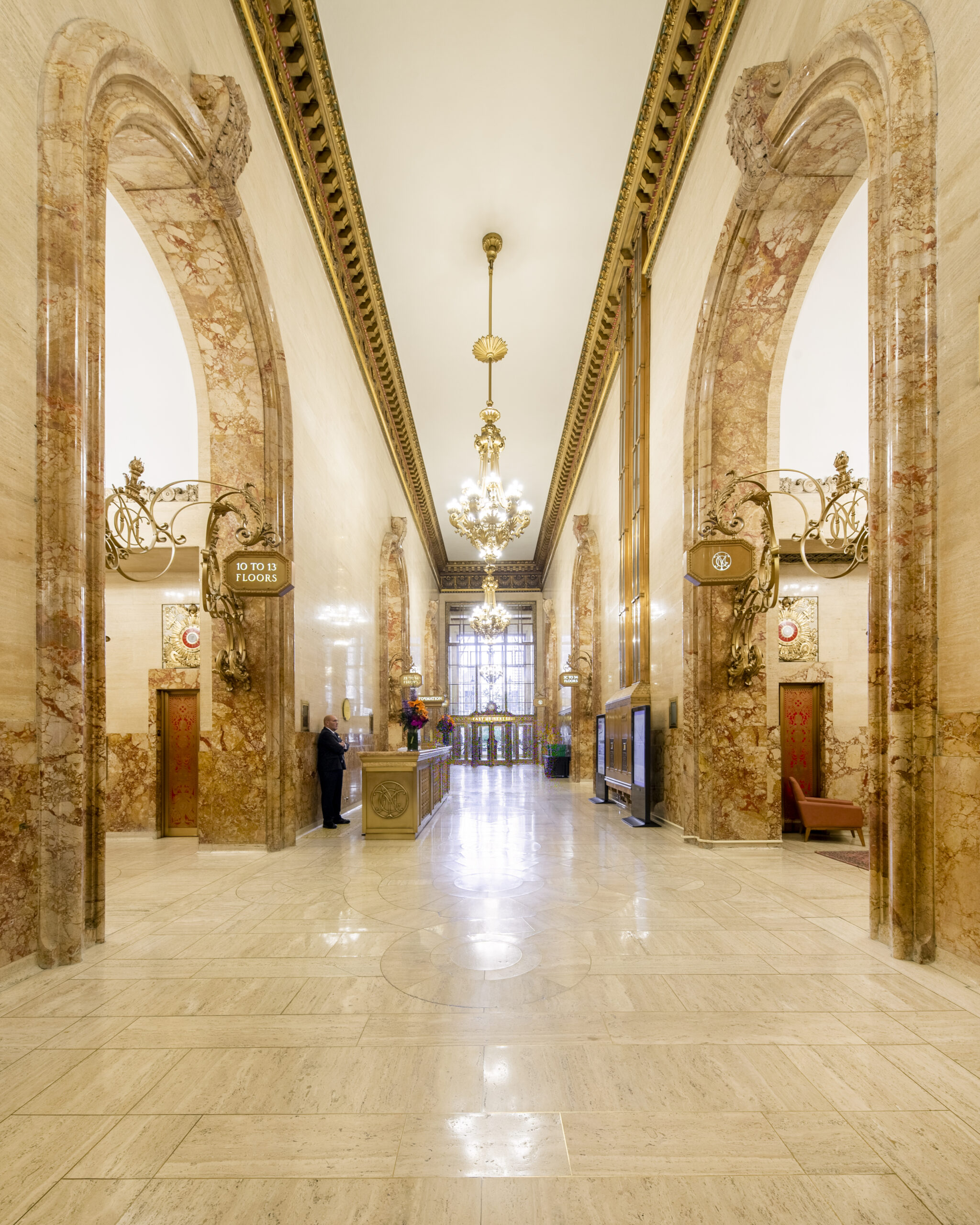 Moreover, New York's architectural diversity is a goldmine for a photographer with a storytelling bent. Each style, from Beaux-Arts to Brutalism, offers a different narrative palette. By understanding the history and intent behind these styles, I can craft images that resonate on both visual and emotional levels.
In essence, navigating New York City's architectural scene is a dance — one where you lead at times, following the city's cues at others, always in tune with its rhythm, and always ready for a surprise.
Light is pivotal in photography, and especially so in architectural photography. Given NYC's dense urban landscape, how do you manipulate and work with natural light? Have there been instances where the city's unique play of light has taken you by surprise?
Ah, light – the very soul of photography. In architectural photography, it becomes both a challenge and an ally, especially in the dense urban jungle of New York City. The city's tall structures often create a dynamic environment, casting shadows, reflecting sunlight, or creating intriguing patterns on adjacent buildings.
Working with natural light in such an environment is an exercise in patience and observation. I often scout a location multiple times at different hours to understand how light interacts with the structure throughout the day. Morning light might cast a soft, golden hue, giving the building a warm and welcoming feel, while the late afternoon sun might create dramatic contrasts, accentuating the building's features.
New York City's high-rises often act as giant mirrors. They can reflect light onto streets or buildings that would otherwise be engulfed in shadows. Harnessing these reflections, either to illuminate a subject or create an interesting background, is a technique I've employed often.
But yes, the city has its way of surprising even the most seasoned photographers. One instance that comes to mind occurred in the Financial District. I was photographing a historic building, waiting for the right light. As the sun moved, it reflected off a nearby glass skyscraper, casting a mosaic of light patterns onto my subject. It was ephemeral, lasting just a few minutes, but the resultant image was one of the most unique I've captured, a blend of old and new, solid and ethereal.
Another surprise often comes during the 'Manhattanhenge' phenomenon, when the sun aligns perfectly with the city's east-west street grid. It's a spectacle that transforms even the most familiar of buildings, bathing them in an almost surreal light. This happens only four days a year and only lasts for 15-20 minutes.
In essence, while you can plan and anticipate, NYC's play of light often teaches you humility. It reminds you that nature, even in a man-made environment, has its way of taking the reins, compelling you to adapt, improvise, and sometimes, just stand back in awe.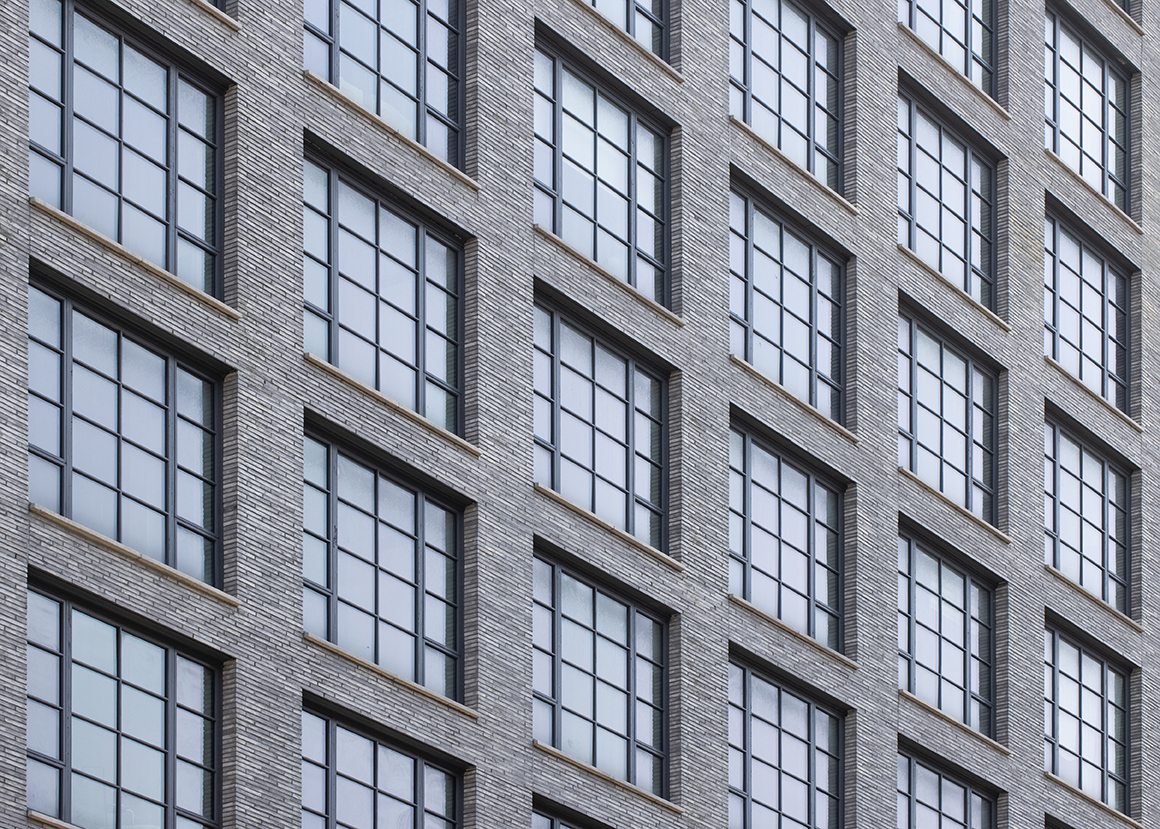 How do you believe architectural photography in NYC differs from other major cities around the world? Is there a certain characteristic or nuance that sets the city apart for you?
Certainly, the essence of New York City's architectural photographypresents a distinctive charm that differentiates it from other major global cities.
At the heart of this uniqueness lies the city's profound historical tapestry. Unlike many other metropolises, architectural photography in New York Cityoffers a visual journey that spans from the colonial era right up to the modern day, all standing side by side. The skyline, marked by its dense verticality, poses both challenges and opportunities. Tightly packed skyscrapers create intricate patterns of light and shadow, demanding a blend of technical skill and creativity to capture just right.
But beyond its physicality, New York's essence is deeply rooted in its history as a cultural melting pot. Its buildings aren't just shaped by architectural trends, but by waves of immigrants, each bringing a touch of their homeland, creating a mosaic of styles that reflect its multicultural heritage.
Additionally, New York's pace of change is unparalleled. The continuous evolution of its cityscape means that as a photographer, I'm not just capturing a moment, but a snapshot in a timeline of relentless transformation. And let's not forget its unique island geography. The intertwining of urban life with its surrounding waters adds another layer of depth, offering unique waterfront vantage points and reflections.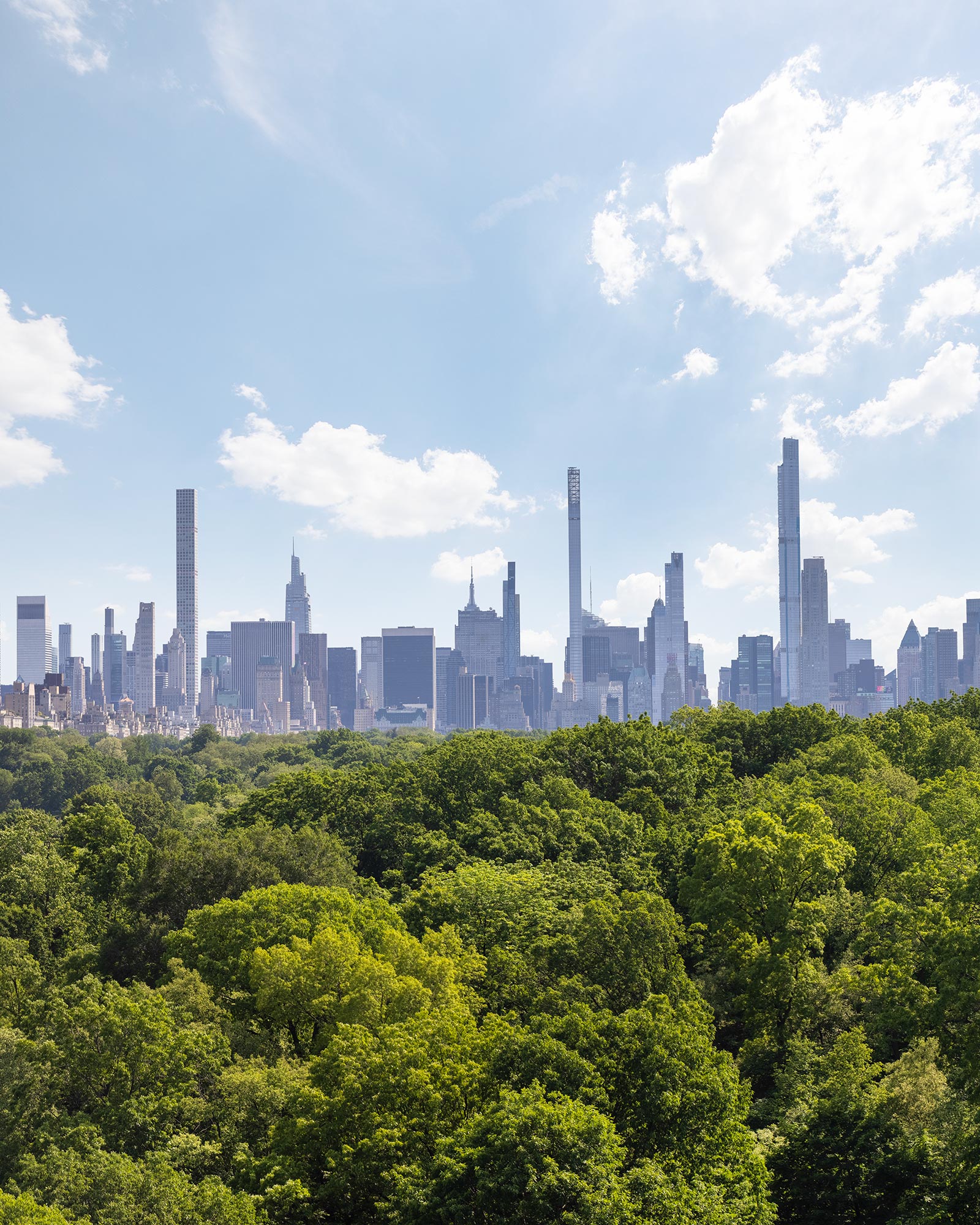 For me, though, the defining nuance of New York City is its indomitable spirit of resilience. Whether it's in the grandeur of its towering skyscrapers or the quaintness of its historic brownstones, every brick and beam seems to echo a story of persistence, dreams, and reinvention. This isn't just a city; it's an ongoing narrative, ever-changing and ever-inspiring.
Beyond the technical aspects, there's always a story or narrative in any art form. How do you integrate the history and culture of NYC into your photographs? Are there any stories you've aimed to tell through your shots?
Absolutely, the heart of any artistic endeavor, including architectural photography, often lies in its ability to communicate stories, particularly in a metropolis as multifaceted as New York City.
The architecture here isn't just about buildings; it's about the stories they tell. When I photograph, I aim to capture the city's ever-evolving narrative.
The Lower East Side's immigrant-rich history is one of my favorite architectural portions of NYC. Amidst the modern buzz, there's a tale of old-world charm and tradition that is central to architectural photography in New York City. Similarly, in Brooklyn, areas like DUMBO and Williamsburg have transformed from industrial sites to trendy hubs, yet they retain a touch of their past. Capturing the blend of heritage and modernity is what drives my work, and it's also why a lot of my clients come to me for my help.
In an era where drones and aerial shots have become more prevalent, how has this impacted your work? Has it offered a new perspective or added challenges in NYC given its regulations and the city's busy airspace?
The advent of drones has undeniably reshaped the world of photography, offering very unique perspectives and fresh views of urban landscapes. While many photographers have embraced this aerial revolution, I've consciously opted out of the drone game for the time being.
Why, you ask? There's something uniquely powerful about capturing buildings from below. It's akin to the cinematic angles of superheroes or villains in films. When they're depicted from street level, there's a sense of grandeur, dominance, and majesty conferred to them. I would say, In a city like New York, the most powerful stories are captured at eye level or from below, not from above.
Of course, with all the buzz about flying cars on the horizon, who knows? My perspective might get a lift someday. But for now, I'll keep my feet on the ground and my lens tilted up, capturing the giants of the city in all their glory.
Given the city's millions of inhabitants and bustling streets, integrating or excluding human elements must be a conscious choice. How do you decide when to incorporate people and activity, and when to focus solely on the architectural elements?
Absolutely, the presence or absence of human elements can dramatically shift the narrative of a photograph. New York City, being the bustling metropolis it is, always poses this challenge.
When I aim to emphasize the sheer scale or the design intricacies of a structure, I often opt for moments of relative quiet or use techniques to minimize the human presence. This allows the architecture itself to be the central character, free from distractions, and lets viewers appreciate its details, lines, and form.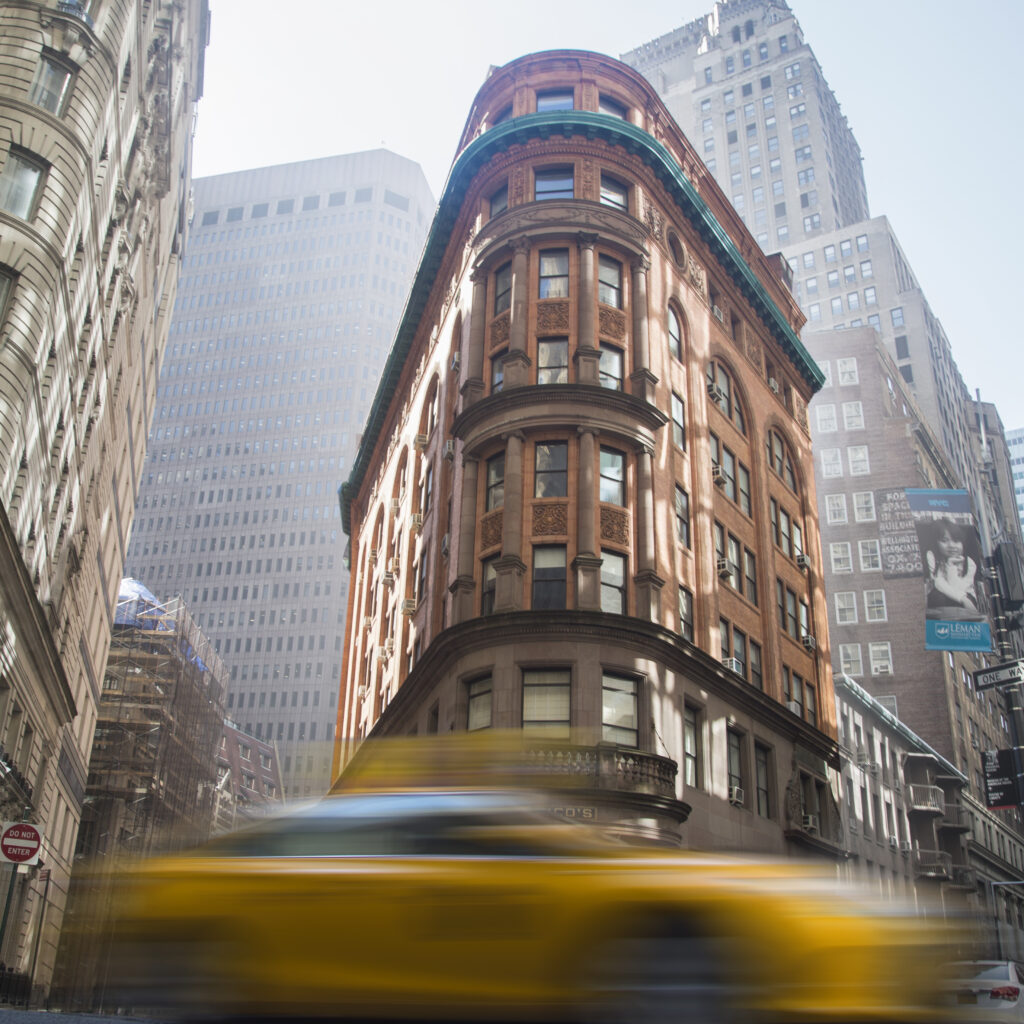 Conversely, when I want to convey the city's vibrancy, its pulse, or the relationship between the structures and those who inhabit them, I deliberately integrate people into the frame. A silhouette against a lit window, a street performer in the shadow of a skyscraper, or maybe a yellow cab going by — these human elements bring the structures to life, highlighting their function and place in the urban ecosystem.
Ultimately, the decision is driven by the story I want to tell. Is it about the static, timeless nature of the buildings or the dynamic, ever-changing life they house and surround? It's this dance between the architectural and the human, the permanent and the ephemeral, that makes capturing New York City an endlessly intriguing endeavor.
With the advancements in post-processing and digital manipulation, how do you find the balance between staying true to the architecture while also pushing the boundaries of creativity in post-production?
Post-processing, when used judiciously, is a powerful tool that can elevate an image, but it's a double-edged sword, especially in architectural photography where authenticity is paramount.
When working on architectural photography in New York City, my primary goal is to honor the essence of the architecture. I'm cautious not to manipulate my photos to a degree where they lose their authenticity, history, or true design. I always reflect on the question, "What story or emotion did this structure spark when I stood there?" Based on this, my post-processing steps aim to amplify those original sentiments, be it through enhancing lighting to bring out a building's form or subtly adjusting colors to mirror the day's mood.
Digital tools can tempt us to make images surreal, but I think architectural photography should capture reality, though with a personal touch. It's about showing buildings in a way that feels real and relatable to the viewer.
That being said, there's room for artistic interpretation. Sometimes, a bit of creative flair in post-production can bring out underlying themes or emotions, making the image more impactful. The key is ensuring that these enhancements serve the story of the architecture, rather than overshadowing it.
Even with advanced tools, the goal is balancing artistry with truth. After all, architecture's beauty is often in its simple, raw form.
Finally, looking ahead, how do you envision the future of architectural photography in New York City? Are there emerging trends, technologies, or challenges that you believe will shape the next chapter of this craft?
The ever-evolving landscape promises that Architectural photography in New York City will only evolve. As we move forward, I foresee a blend of tradition and innovation shaping our craft.
Emerging technologies, especially augmented and virtual reality, might redefine how we experience architectural spaces. Imagine exploring a photographed spaceinteractively, delving into its corners and nuances virtually. While this isn't traditional photography, it's an exciting frontier that blurs the lines between static imagery and immersive experience.
Additionally, as sustainable and green architecture becomes more prevalent, capturing the interplay between structures and their natural surroundings will gain prominence. This will challenge photographers to represent not just the aesthetics, but the ethos and functionality of these eco-conscious designs.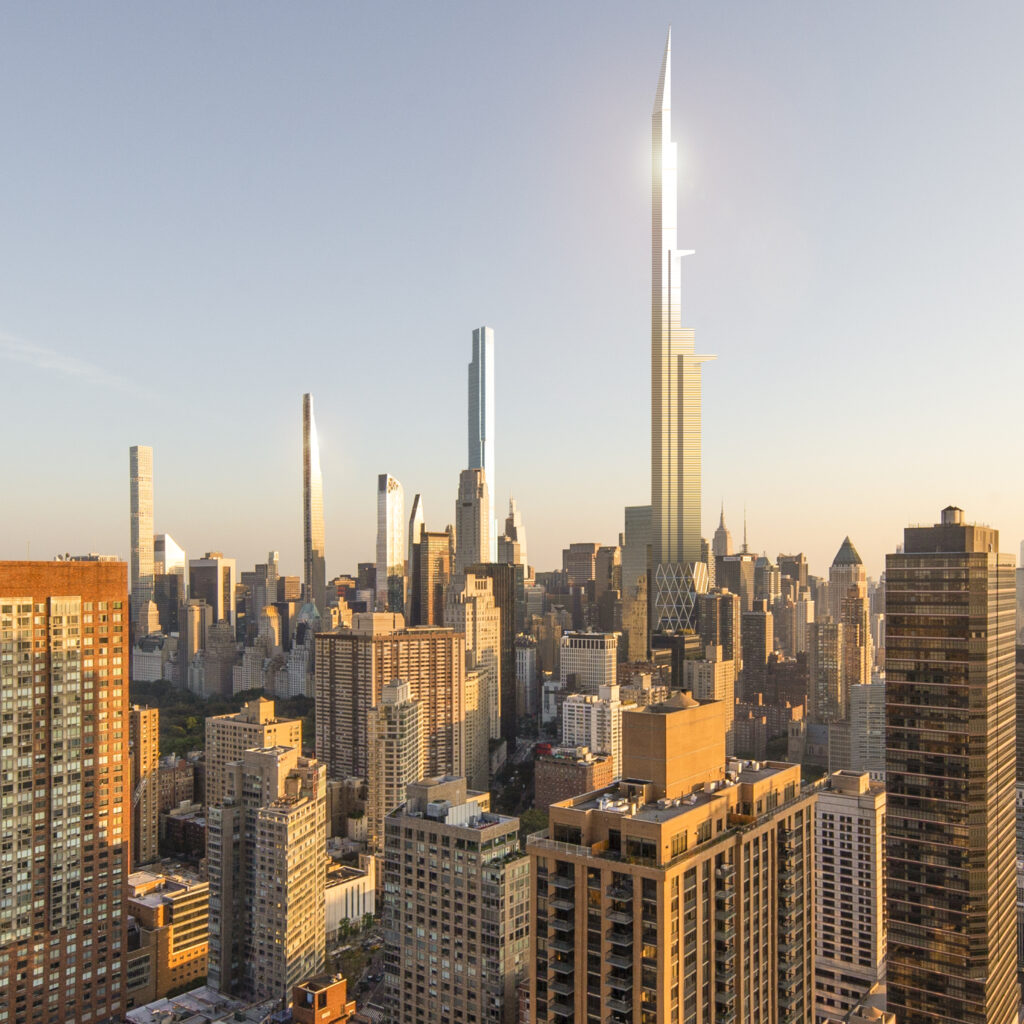 However, with all these advancements, some challenges persist. The city's ever-tightening regulations, concerns over privacy, and the need to distinguish genuine artistry in an age of filters and presets will test photographers' skills and ethics.
Yet, at its core, architectural photography in NYC will remain a celebration of its skyline's dynamism, marrying the old with the new, tradition with avant-garde. No matter the trends or tools, the essence will be capturing the soul of structures in a city that's always on the cusp of reinvention.