Weather photography, especially in the realm of architecture, is a captivating blend of nature's unpredictability and man-made structures. For those in New York City, where iconic skyscrapers meet ever-changing weather patterns, the opportunities for unique architectural shots are abundant. While many photographers wait for the perfect sunny day to capture their subjects, there's an undeniable allure in harnessing the elements—fog, rain, and snow—to enhance architectural photos.
Understanding weather and its impact
The science nehind weather patterns
New York City experiences a diverse range of weather conditions, from foggy mornings to snowy winters. Each weather pattern, influenced by atmospheric pressure, temperature, and humidity, offers a unique backdrop for architectural shots. For instance, a foggy day can provide a mysterious aura to the city's skyline, while rain can create reflective surfaces, adding depth and dimension to photographs.
How different weathers affect mood and perception
Weather plays a significant role in setting the mood of a photograph. A bright, sunny day can convey warmth and positivity, while a cloudy or rainy day can evoke feelings of melancholy or introspection. For architectural shots, weather can accentuate certain features of a building or provide contrast. For example, the sharp angles and glass facades of modern buildings in NYC can be beautifully juxtaposed against a soft, foggy backdrop.
Harnessing fog: The mystique of foggy landscapes
Fog, with its ethereal quality, can transform the mundane into the magical. In New York City, fog often rolls in from the Atlantic, enveloping skyscrapers and creating dreamy landscapes.
Techniques for capturing fog in architectural shots
Use a Wide Aperture: This allows for a shallow depth of field, making the building stand out against the foggy backdrop.
Play with Exposure: Underexposing the shot can enhance the moodiness of the fog.
Focus on Contrast: Buildings with distinct shapes or colors can pop against the muted background of a foggy day.
Equipment recommendations for fog photography
A Sturdy Tripod: Essential for stability, especially in low light conditions.
A Fast Lens: Helps in capturing sharp images in foggy conditions.
Lens Hood: Prevents lens flare and maintains image contrast.
Utilizing rain: The reflective beauty of rain
Rain, often seen as a deterrent for outdoor activities, can be a boon for architectural photographers. The streets of New York City, with its iconic structures, come alive under the gentle touch of raindrops, offering a fresh perspective and a myriad of photographic opportunities.
Tips for capturing raindrops and wet surfaces
Reflections are Key: After a rain shower, puddles form, creating natural mirrors. Use these to your advantage to capture reflections of buildings, adding a symmetrical dimension to your shots.
Play with Shutter Speed: A fast shutter speed can freeze raindrops in mid-air, while a slower one can create a soft, streaky effect, portraying the motion of the rain.
Embrace Overcast Skies: Cloudy skies diffuse light, reducing harsh shadows and allowing for even lighting—ideal for highlighting architectural details.
Protecting your gear during rainy shoots
Weather photography, especially in rain, demands extra precautions:
Use Rain Covers: Specialized rain covers for cameras ensure that water doesn't seep into the delicate parts of your equipment.
Carry Silica Gel Packs: These help in absorbing any moisture that might get inside your camera bag.
Avoid Changing Lenses: Doing so in the rain can allow moisture to enter the camera body.
Rainy days in New York City, with its bustling streets and towering skyscrapers, provide a dramatic backdrop. The wet surfaces, reflections, and the overall moodiness of the atmosphere can elevate architectural shots, making them stand out.
Embracing the snow: A winter wonderland in NYC
Snowfall in New York City transforms the urban landscape into a serene winter wonderland. The juxtaposition of historic brownstones, modern skyscrapers, and the blanket of white snow creates a magical setting for architectural photography.
Techniques for snowy architectural shots
Capture Fresh Snow: The beauty of fresh snow, untouched and pristine, adds a surreal quality to photographs. Aim to shoot immediately after a snowfall, before the city wakes up and the snow is trampled.
Contrast and Texture: Snow accentuates the textures of buildings. The contrast between the dark outlines of structures and the white snow can be used to highlight architectural details.
Night Photography in Snow: The reflection of city lights on snow can create a warm and inviting ambiance. Capture the glow of streetlights and building illuminations against the snowy backdrop.
Challenges and precautions
Cold Weather Gear: Ensure your camera batteries are fully charged as they deplete faster in cold conditions. Keep spare batteries in a warm pocket.
Protecting Equipment: Snow can be wet and sticky. Use protective covers to shield your camera and lens from moisture.
Footprints: Be mindful of where you walk, as footprints in the snow can disrupt the natural scene you might want to capture later.
Snow-covered New York City offers a unique perspective, especially for iconic structures like the Flatiron Building, Central Park's bridges, and the brownstones of Brooklyn. The serene atmosphere, combined with the city's architectural marvels, provides endless opportunities for captivating weather photography.
Post-processing techniques: Enhancing weather-centric architectural photographs
Post-processing is a crucial step in the world of photography, allowing photographers to refine and enhance their raw captures. When dealing with weather photography, especially in an architectural context, post-processing can accentuate the mood, highlight specific details, and correct any imperfections.
Enhancing foggy images in post
Adjusting Contrast: Fog tends to flatten images. By increasing the contrast, you can bring out the details of the architecture against the foggy backdrop.
Clarity and Dehaze Tools: These tools, available in software like Adobe Lightroom, can help in reducing the haze and bringing out the details of the structures.
White Balance: Adjusting the white balance can help in achieving the desired mood. A cooler tone can enhance the mysterious feel of fog, while a warmer tone can give a sunrise effect.
Bringing out the best in rainy shots
Saturation and Vibrance: Rain often makes colors pop. Enhancing saturation or vibrance can make these colors stand out even more.
Sharpening: This can help in defining raindrops and wet surfaces, making them more prominent in the image.
Reflection Enhancement: Using the dodge tool can brighten reflections captured in puddles or wet surfaces, adding depth to the image.
Adjusting snowy photos for maximum impact
Exposure Compensation: Snow can often cause underexposure. Adjusting the exposure can ensure that the snow appears white and not gray.
Highlight Details: Using the highlight slider can help in retaining the details of snow-covered surfaces.
Color Correction: Snow can sometimes reflect color casts. Adjusting the color balance can help in achieving a natural look.
Post-processing is not just about enhancing an image but also about translating the photographer's vision into the final shot. With the right techniques, the essence of New York City's diverse seasons and moods can be beautifully captured and conveyed.
Safety and precautions: Navigating NYC's weather for photography
In the bustling streets of New York City, weather photography, especially architectural shots, presents unique challenges. Beyond the technical aspects, ensuring safety for both the photographer and the equipment is paramount.
Jakob's best safety tips
Stay Aware of Your Surroundings: NYC is always on the move. Whether it's pedestrians, cyclists, or vehicles, always be aware of your surroundings to avoid accidents.
Secure Your Equipment: Use straps for your camera and other gear. This not only prevents accidental drops but also deters potential thieves.
Dress Appropriately: The weather can change rapidly. Dress in layers during colder months and always have rain gear handy.
Avoid Risky Locations: While rooftops and ledges might offer unique vantage points, ensure you have permission and that safety measures are in place.
Stay Hydrated and Nourished: Long photography sessions can be draining. Carry water and snacks, especially during hot summer days.
Protecting your equipment
Weatherproof Bags: Invest in a good quality weatherproof bag to protect your gear from rain, snow, and dust.
Lens Filters: These not only enhance image quality but also protect the lens from scratches, moisture, and dust.
Backup Storage: Always carry extra memory cards and a portable hard drive. This ensures you don't run out of storage and provides a backup for your shots.
Regular Maintenance: After shooting in challenging weather, clean your equipment. Check for moisture, clean the lens, and ensure all parts are functioning correctly.
Respecting privacy and regulations
Avoid Private Properties: Always seek permission before shooting on private properties or restricted areas.
Respect Individuals' Privacy: If capturing street scenes, be mindful of people's privacy. Avoid photographing individuals without their consent.
Know the Drone Regulations: New York City is home to a long list of government official buildings so you are planning on using a drone for aerial shots, be aware of NYC's very strict regulations to ensure safe and legal flying.
In conclusion, while the dynamic weather of New York City offers unparalleled opportunities for architectural photography, it's essential to prioritize safety and respect the city's regulations and its residents. With the right precautions, you can capture the essence of NYC's architecture in all its weather-induced glory.
Case studies: Iconic architectural photos enhanced by weather
Weather photography in New York City has given birth to some iconic shots that have not only captivated audiences but also significantly impacted the architectural and real estate sectors.
Embracing the fog: Capturing the Manhattan Bridge
The Manhattan Bridge, a historic link between Manhattan and Brooklyn, takes on an otherworldly aura when enveloped in dense fog. Jakob Dahlin often speak of the ethereal beauty of the bridge's silhouette emerging from the mist, with its cables and arches creating patterns against the foggy backdrop.
The photo below not only highlight the bridge's architectural splendor but also evoke a sense of nostalgia and timelessness. This foggy photograph have found its way into various publications, celebrating the bridge's iconic status in New York City's landscape.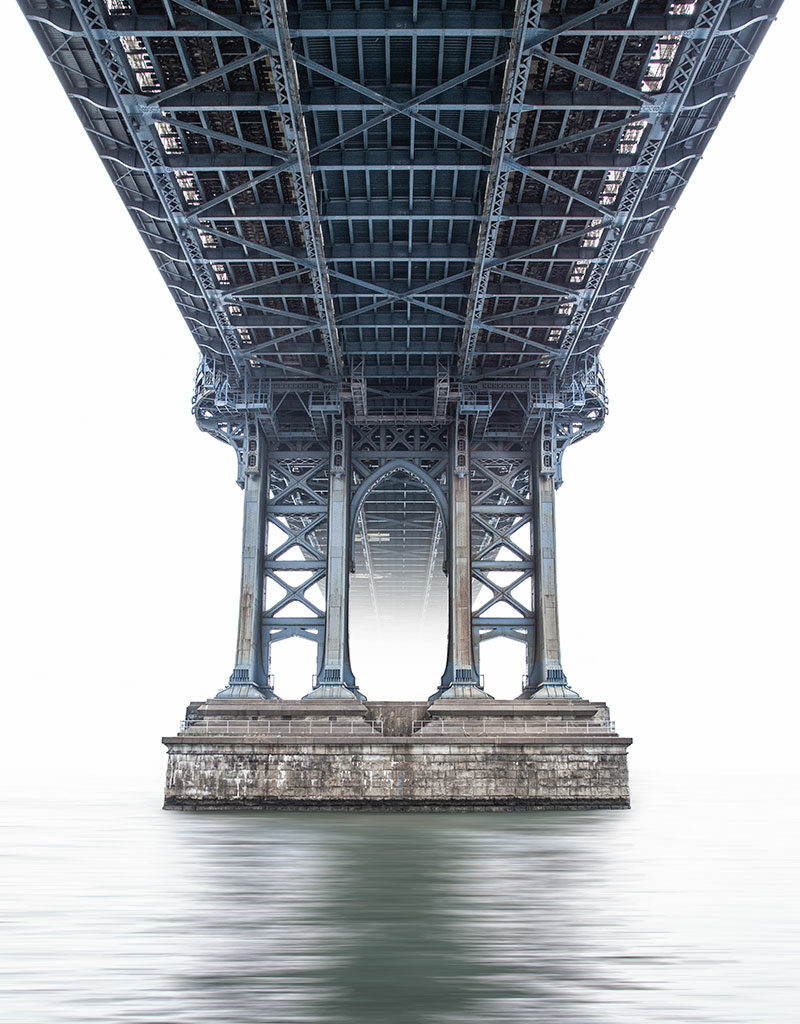 Rain and Thunder: The Manhattan Skyline
The Manhattan skyline, with its mix of historic and modern structures, offers a dramatic visual spectacle during rain and thunderstorms. The dark clouds, punctuated by lightning, create a stark contrast against the illuminated buildings. Jakob Dahlin have captured moments where lightning bolts seem to dance around skyscrapers, creating electrifying images. These photographs, apart from their visual appeal, also narrate the story of a city that stands resilient and vibrant, even in the face of nature's fury.
Neighborhood photography in a snowstorm
New York City's neighborhoods, with their unique character and charm, provide a rich canvas for photographers, especially during snowstorms. Streets lined with brownstones, local cafes, and parks get transformed into serene winter landscapes.
The challenge of capturing these neighborhoods under a blanket of snow, with visibility reduced and the surroundings muffled, brings out the true essence of community anvenue
d warmth. Jakob Dahlin's photos is showcasing the city's neighborhoods not just as places of residence, but as communities that thrive and bond, irrespective of the weather.
Conclusion: The art of embracing the unpredictable
In the world of photography, especially when capturing the architectural wonders of New York City, unpredictability is not a challenge but an opportunity. The city, with its ever-changing weather patterns and iconic structures, offers a canvas that's both dynamic and diverse.
Weather photography in NYC is more than just capturing buildings; it's about telling a story. A story where fog, rain, and snow are not mere elements but characters that add depth, emotion, and context. They transform the familiar skyline, making it appear new, fresh, and often, magical.
For real estate professionals, these weather-enhanced images provide a unique selling point. They showcase properties not just as structures, but as homes that stand resilient and beautiful, come rain or shine. For architects, these photographs offer a fresh perspective, highlighting how their designs interact with nature's whims.
In Jakob Dahlin's experience, the city becomes a playground where every weather change brings a new challenge and a new opportunity. It pushes him out of his comfort zone, urging him to see the familiar in unfamiliar ways. And in doing so, he not only capture the essence of New York City but also his own growth and evolution as an artist.
In essence, weather photography in the architectural context is a celebration of the unpredictable. It's a testament to the fact that beauty can be found in the most unexpected places and moments, and all it requires is the vision to see it and the passion to capture it.
As we wrap up this exploration, let's remember that every cloud, every raindrop, and every snowflake brings with it a chance to see the world, especially the architectural marvels of New York City, in a new light. And for those willing to embrace this unpredictability, the rewards are truly unparalleled.