Introduction: Selling the view in NYC real estate
Overview
The skyline of New York City is more than just a collection of towering skyscrapers; it's a valuable asset in the real estate market. This article delves into the impact of NYC skyline shots on property value, focusing on how architecture and photography play pivotal roles.
We'll examine the allure of the NYC skyline, the real estate landscape, and the value of a view, among other facets. This article is tailored for individuals interested in real estate, particularly those looking for tips on how to sell an apartment with a "brick wall" view in New York City.
Methodology
We've conducted extensive research, including interviews with real estate experts and data analysis, to provide a comprehensive look at this topic.
Target audience
Real estate agents, property developers, and potential buyers will find this article invaluable.
Terminology
Selling the View: The practice of leveraging scenic views, particularly of the NYC skyline, to enhance property value.
Brick Wall View: A property view obstructed by neighboring buildings, often considered less desirable.
The allure of the NYC skyline
New York City, the city that never sleeps, has always been a real estate market driven by its iconic skyline. The towering skyscrapers and architectural marvels not only define the city but also the value of the properties that offer a view of this magnificent landscape. In this article, we delve into the intricate relationship between the NYC skyline and property values, focusing on how selling the View has become a compelling strategy in the real estate market.
Historical context
New York City's skyline is a living testament to architectural innovation and urban development. From the iconic Empire State Building to the modern One World Trade Center, each structure tells a story of its era. The skyline has evolved over the years, reflecting changes in architectural styles, technologies, and societal values.
Emotional connection
For many, the NYC skyline is more than just a collection of buildings; it's a symbol of aspiration and achievement. The sight of these towering structures against the backdrop of the setting sun can evoke a sense of awe and belonging, factors that can be compelling when selling the view.
Cultural significance
The skyline has been immortalized in countless movies, songs, and artworks. Its cultural impact is so profound that it often serves as a shorthand for the city itself. This cultural capital translates into real economic value, especially in the real estate market.
By understanding the allure of the NYC skyline, real estate agents can better strategize how to sell properties, even those with less-than-ideal views. The emotional and cultural significance of the skyline can be powerful tools in marketing and negotiation.
The current state of NYC's real estate market
Before we delve into the impact of skyline views on property value, it's crucial to understand the current dynamics of NYC's real estate market. According to a report by the New York State Association of REALTORS (NYSAR), the median sales price in August 2023 surged by 4.8 percent, reaching $411,500. The market is competitive, with properties often being sold at or above their listed prices. The number of homes available for sale has decreased by 26.9 percent, making it a seller's market.
The science behind the view: Architectural and photographic elements
The role of architecture
Architecture plays a significant role in selling the View. Iconic buildings like the Empire State Building or One World Trade Center not only add to the city's skyline but also to the value of properties that offer a clear view of these landmarks.
The importance of photography
High-quality photography can significantly enhance the appeal of a property. Real estate listings that feature well-composed skyline shots can attract more potential buyers and command higher prices.
Skyline views and property value
Manhattan: The premium view
Properties in Manhattan that offer a clear view of the skyline are often priced much higher than those without. The demand for such views has led to a surge in property prices in specific neighborhoods.
Brooklyn: The emerging market
Brooklyn has been catching up with Manhattan in terms of property value. The views of Manhattan's skyline from certain Brooklyn neighborhoods have become a unique selling point for properties in the area.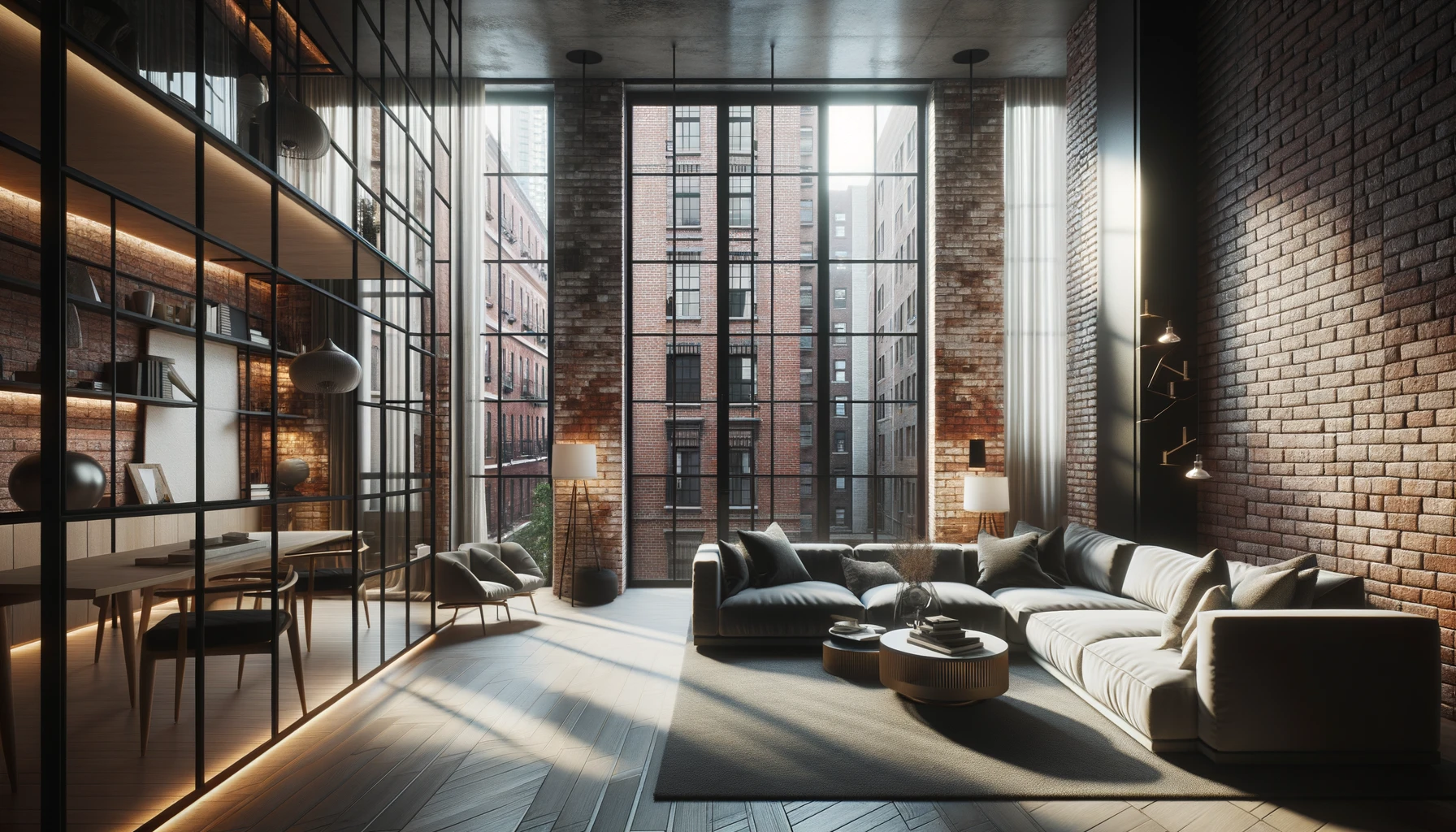 Tips for selling an apartment with a brick wall view or views of other buildings
Not all properties come with a million-dollar view. However, there are ways to make the most out of what you have. Here are some tips for selling an apartment that doesn't offer a picturesque skyline view.
Highlight other features: If the view isn't great, focus on other selling points like the apartment's layout, amenities, or unique architectural features.
Word it right: Rather than than saying the apartment has "limited view", say the apartment have a "ton of privacy".
Use Professional Photography: Even a brick wall can look appealing if shot correctly. Jakob Dahlin use lighting and angles to his advantage.
Set the right price: Properties without a view should be priced realistically to attract potential buyers.
Conclusion: The everlasting impact of selling the view
The NYC skyline will continue to be a significant factor in determining property values. Whether you're a buyer, seller, or investor, understanding the impact of the view can help you make informed decisions in this competitive market.
The psychology of selling the view
The emotional connection
People often form an emotional attachment to places, and a view can significantly influence this connection. A skyline view can evoke feelings of aspiration, freedom, and connection to the city's pulse. This emotional bond can be a powerful tool in real estate transactions.
The perceived value
A skyline view often adds perceived value to a property. Buyers are willing to pay a premium for this intangible benefit, which doesn't necessarily correlate with the square footage or the number of bedrooms a property has.
The legal aspects of selling the view
Zoning laws and view corridors
Understanding local zoning laws is crucial when selling a property based on its view. Some areas have "view corridors" protected by law, ensuring that new developments won't obstruct existing views.
Disclosure requirements
Sellers must be transparent about any potential future developments that could obstruct a property's view. Failure to disclose this information can lead to legal complications.
The role of technology in selling the view
Virtual reality tours
Virtual reality (VR) can offer potential buyers a lifelike experience of the view from a property. This technology is particularly useful for international buyers who may not be able to visit the property in person.
Drone photography
Drone photography offers a unique perspective of a property and its surrounding area. These aerial shots can be a game-changer in showcasing a property's proximity to landmarks and its place within the cityscape.
The Future of selling the view
Upcoming architectural projects
New architectural projects can either enhance or obstruct existing views. Keeping an eye on the city's future skyline can offer insights into how property values may change.
Sustainability and views
As cities move towards more sustainable practices, features like green roofs and vertical gardens could become new focal points that add value to a property's view.
Future trends: The evolving landscape of selling the view
Technological advancements
The real estate sector is undergoing a digital transformation, with PropTech leading the way. Smart home technology is gaining traction, as buyers now look beyond square footage and location. They seek properties equipped with energy-efficient systems, home automation, and intelligent security solutions. Virtual reality (VR) and augmented reality (AR) are also reshaping real estate transactions, offering prospective buyers the ability to explore properties in real-time from anywhere in the world.
Market predictions
Demographic shifts, including the aging baby boomer generation and the rising wave of millennials, are reshaping housing demands. These trends will likely spur the growth of multi-family homes and co-living spaces. Additionally, the increase in remote work options is influencing people's decisions about where they choose to live, pushing many towards the city's more affordable outer boroughs.
Policy implications
Urban planning initiatives in New York aim to create a more sustainable, livable city. Future projects are likely to focus on reducing the environmental impact of construction and creating energy-efficient buildings. Affordable housing initiatives will also shape New York's real estate future, making the city more accessible to a wider range of income levels.
By staying ahead of these trends and understanding their implications, real estate professionals can better strategize for the future of selling the view in NYC.
Conclusion: The multifaceted impact of selling the view
Summary of findings
The NYC skyline is not just an iconic backdrop but a significant factor in property valuation. From the emotional allure of landmark views to the tangible benefits quantified in property prices, selling the view is a complex interplay of various elements. Technological advancements and market trends further complicate this dynamic, requiring real estate professionals to adapt and innovate continually.
Recommendations
Embrace technology: Utilize VR and AR for virtual tours and invest in high-quality photography to enhance property listings.
Understand the market: Keep abreast of demographic shifts and urban planning initiatives that could influence property values.
Ethical transparency: Always disclose any potential future developments that could obstruct a property's view.
Limitations
While this article provides a comprehensive overview, it's essential to note that the real estate market is subject to fluctuations. Economic downturns, changes in zoning laws, and unforeseen events can all impact property values.
Areas for further research
The impact of sustainable architecture on selling the view.
How the rise of remote work will influence the value of skyline views.
The role of psychological factors in property valuation.